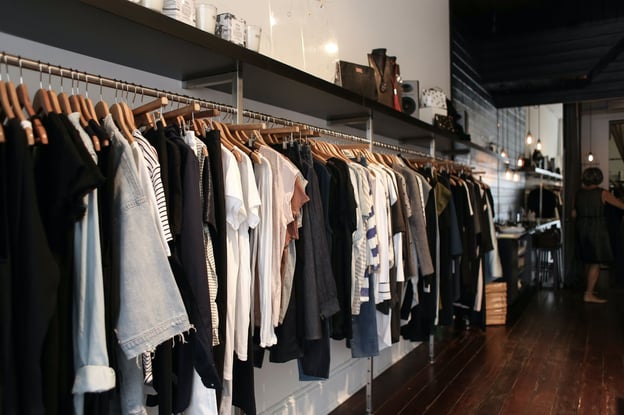 Store planning is both an art and a science. Elements of behavioral psychology, geometry, and statistics combine with aesthetics and color theory to produce the physical and emotional relationship shoppers attach to your retail location. Plan well, and you can guide the feelings they experience within your store, direct them to critical inventory, and improve customer satisfaction along with your bottom line. Do it poorly, and your customers will end up confused, frustrated, and likely take their business elsewhere. Read on to discover expert tips for creating a store plan that will meet your KPIs while ensuring customers keep coming back.
Jump to a section…
Angular floor plans: great for purveyors of high-end products
Diagonal floor plans: for books, wine, and more
Other effective retail store floor plans
What foot traffic can tell you about layout, staffing, and more
Retail maps help customers find what they're looking for
Architecture should match the emotion of your brand
Tips for effective retail store design
Leverage the latest tech to bolster sales at your retail location
What is store planning
?
Store planning is how retailers arrange their layout to optimize metrics like sales revenue, foot traffic, and activations while ensuring aisles are easily navigable and accessible for customers. Planners must consider the following when developing their store layout strategy:
Store layout:

Store planners must consider how customers enter, flow through, and leave the store to maximize traffic through high-value areas.

Item location:

Inventory must be grouped and placed in logical areas throughout the store while offering space for prominently highlighted promotional items.

Signage:

Store layouts should provide ample opportunities to display advertisements, sale signs, and other important notifications.

Branding:

Store layouts must have ample opportunity to build and reinforce the store's brand, as well as the brands of any retail partners.

Accessibility:

Stores should be easy to travel through for all customers, and signage should clearly highlight departments to prevent confusion. Store planners must adhere to federal, state, and local disability laws when developing their retail layouts.
Technology like augmented reality can aid store planners in developing the best strategies for highlighting inventory, improving customer throughput, and maximizing KPIs. Download our free ebook to learn more.
Read What is Store Planning? to discover the impact effective store planning can have on your retail business.
Angular floor plans: great for purveyors of high-end products
Choosing the right layout for your store depends on several factors, such as the size of your location and the type of products you offer. If you work for a small-to-mid-sized retail store or boutique specializing in luxury products, consider implementing an angular floor plan.
Angular floor plans take a more free-form approach to store planning and design, utilizing round tables, angled fixtures, and even shelves on the walls to guide shoppers through the store. The placement of tables and the curved design encourages shoppers to examine objects more closely, making the shopping experience more organic and intimate than in a typical store layout.
Find ways to optimize your angular floor plan by reading What Is an Angular Floor Plan in Retail?
Diagonal floor plans: for books, wine, and more
Not to be confused with the angular floor plan, the diagonal floor plan is a spin on the traditional grid layout. By placing shelves at a 45° angle, retailers can increase the visibility of their products, boosting sales while simultaneously improving loss prevention efforts.
The diagonal floor plan is perfect for retail locations that need to display a large volume of inventory without the need for bespoke shelving units or fixtures. Libraries, bookstores, wine and liquor stores, shoe stores, and hobby shops make great candidates for a diagonal floor plan, as they draw customers in to explore a wide inventory of similarly-shaped products.
Read What Is a Diagonal Floor Plan in Retail? to discover the best item placement methods for a diagonal floor plan.
Other effective retail store floor plans
There are a wealth of floor plan options available to meet your retail needs. If the angular or diagonal floor plans aren't what you're looking for, consider implementing one of the following:
Grid:

Perhaps the most widely-used layout in retail, the grid layout provides an excellent balance of product density, organization, reliability, and traffic flow. While grids may be overwhelming for new customers, they're perfect for businesses that rarely need to shake up their layout, as repeat shoppers can always expect to find what they're looking for. Grocery stores and pharmacies like Safeway and CVS use the grid layout.

Loop/racetrack: If you want to guide shoppers along a specific pathway that travels through every department in your store, you will want to implement a loop or racetrack layout. Target is famous for its racetrack layout, which it implements to such great effect that psychologists use it to explain the science behind impulse shopping

.

Free-flow:

While tricky to implement, free-flow layouts can be a boon for high-end boutiques with a small volume of luxury inventory. Free-form layouts encourage customer exploration but are far less space efficient than other layout methods.
Discover which layout is right for your retail business by reading The 6 Retail Store Floor Plans Every Pro Needs to Know.
What foot traffic can tell you about layout, staffing, and more
Your store layout shouldn't just look pretty on a page – it needs to be optimized to prevent foot traffic from jamming up during peak business hours. Examine where your most popular products are placed and ensure they are logically spaced out among less-trafficked areas to keep any one section from becoming overloaded with shoppers. It will be vital to examine your daily, weekly, and seasonal traffic patterns and iterate on your layout to hone in on the optimal design.
Your traffic patterns can also provide insight into staffing and inventory needs. Suppose your daily foot traffic tells you a specific section is getting slammed on the weekend afternoons. In that case, it may be best to provide additional staff coverage and reschedule restocks to other times of the day.
Discover more about what customer foot traffic can tell you by reading 4 Retail Store Traffic Patterns Store Planners Need to Know.
Retail maps help customers find what they're looking for
After coming up with your retail layout, you can develop a retail map for customers to use while they're in the store. These maps are an approximation of your physical layout, containing helpful information such as where to locate departments or restrooms, as well as any necessary emergency information.
Some businesses are experimenting with augmented reality maps that customers download to their mobile devices. For example, Home Depot updated its mobile app with AR-powered inventory location and wayfinding capabilities, allowing shoppers to navigate their chosen store, get directions, read product descriptions, and more.
Read What Is a Retail Map? to learn more about other practical implementations and how to make your own.
Architecture should match the emotion of your brand
Store planners aren't just responsible for designing the layout. They must ensure that the architecture used for tables, lighting fixtures, and even the store exterior is aesthetically pleasing and reinforces the brand.
Choosing the proper architecture requires a keen understanding of your brand, your customers, and the emotions you're attempting to evoke during each visit. For example, modern black tables with minimalist designs can provide a luxurious air and would feel out of place in a sporting goods store. Likewise, Costco's use of industrial shelves combines its open-air layout and regular inventory rotation to make the store feel like a perpetual bargain hunt. Your choice of architecture should form an instant connection with your customers and be easily replicable across locations.
Visit How Retail Store Architecture Affects Sales to discover how Apple's deft use of architecture made it one of the most successful retail stores in the world.
Tips for effective retail store design
Every retail location is different and requires a unique touch to maximize the effectiveness of the space. That said, there are tips you can apply when planning your store layout, regardless of your business model, building size, or location:
Use store layout design software: Having the right tools can make a huge difference in how well your initial plans match the final, real-world result. Store layout software

comes in various flavors and price points, from easy-to-use drag-and-drop solutions with pre-built templates to powerful 3D visualizers with built-in collaboration tools.

Color psychology can drive shopper behavior: Store planning in retail isn't just about finding a suitable layout — picking the right colors

can also impact shopper behavior. For example, red is powerful and attention-grabbing, but planners should use it sparingly to maximize impact. Meanwhile, blue is its polar opposite, representing intellect and having a calming effect on the psyche.

Build in ways to make changes easily: Novelty is vital

for keeping shopper attention over repeat visits, but it may be unrealistic to change your retail location's entire layout every few months. Instead, build areas into your design that enable quick but effective changes to signage or shopping paths to keep things interesting without making a drastic overhaul.
Discover more insights into effective retail design by reading What Is Retail Store Design?
Leverage the latest tech to bolster sales at your retail location
Crafting the optimal store plan requires a deep understanding of your customers, as well as the ability to try new strategies and make adjustments based on the results. Without iteration, your store layout will stagnate. However, knowing what to iterate on will be challenging without the right tools in place.
New technologies like augmented reality provide retailers with the data-driven tools they need to track shopper behavior and apply this data to maximize sales. This tech also opens new doors to additional advertising revenue streams, giving you a financial edge over the competition. Download our ebook and discover how this new digital infrastructure revolution can carry your business into the future.