PLATFORM FEATURES
Vera adds intelligence to physical spaces

Intelligent digital twin technology



Digitally reconstruct your building from the inside out with unprecedented semantic understanding for highly accurate 3D visualizations.

Precise positional tracking



Power applications and navigation services with 6 DoF positional tracking without any markers or additional hardware.

AI & Machine Learning



Real-time data analytics inform decision making & planning, and make apps and devices context-aware to adapt to any environment.

Integrated systems, universal control



Synchronize and track all devices and equipment, integrate systems and data silos, and remotely launch apps and manage operations.
PLATFORM BENEFITS
The ROI of Vera for building owners & operators
Resonai's Vera® platform helps building owners and operators gain greater operational control and provide innovative digital experiences.

Maximize efficiency & operational control



Automate business processes and digitize analog operations. Cut costs by boosting efficiency.

Make Data Driven Decisions



Access comprehensive real-time data and analytics to inform planning and decision-making.

Master remote management



Review accurate 3D visualizations, configure applications, and deploy content remotely.

Deliver innovative end-user experiences



Deliver personalized, relevant experiences with AR content with precise indoor navigation in offices, stores, hospitals and more.

Boost tenant retention & satisfaction



Leverage context-aware apps to better services that increase engagement and improve end user support.

Unlock new revenue opportunities



Monetize new digital real estate and build new streams of recurring revenue, all under your complete control.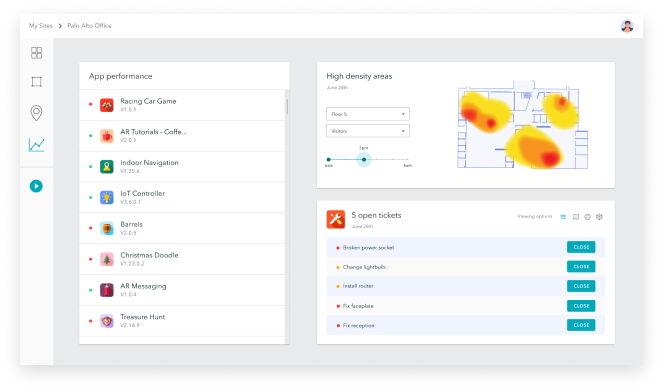 Tie it all together with Vera Central Control
Vera Central Control is one central platform to manage all building operations. Select, configure, and deploy applications from a single interface and leverage our growing list of mobile applications.
PLATFORM APPLICATIONS
Discover Vera's advanced applications
OUR TECHNOLOGY
The Vera SDK
Resonai provides a software developer kit and tools for developers to create new mobile applications that leverage Vera platform features.