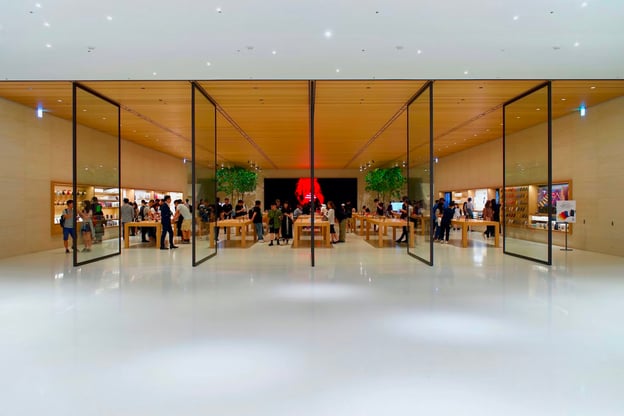 Retail experts and customers alike know that a store is more than the contents of its shelves. The way in which a store displays its products can have a huge impact on how many products it sells and in what quantities; it can even affect the number of repeat customers. Retail store architecture is an important tool to entice customers, keep them inside and happy for as long as possible, and make them more likely to buy and keep buying over time.
Jump to a section…
What is retail store architecture?
How does retail store architecture affect business?
Ready to take your understanding of store planning to the next level? Check out Store Planning: The Ultimate Guide for Retail.
What is retail store architecture
?
Retail store architecture is the practice of designing a building from the ground up with retail sales in mind. It involves creating spaces, both internally and externally, that attract customers to the store, guide them through the shopping experience, sell products effectively, and reinforce a store's brand. The exterior of your store is the first thing a customer sees, so the entrance must be enticing. Once they're through the front door, customers need to know where they'll find the product they're looking for or simply receive a gentle suggestion of where to begin their browsing.
Retail store architecture works hand in glove with store layout to keep customers oriented and engaged. Their impact can be further enhanced by the inclusion of technology like augmented reality (AR) technology, which can also generate additional revenue. Read our free ebook to learn more about the advantages of AR for malls and retail properties.
How does retail store architecture
affect business?
Industry knowledge in the field of retail store architecture has evolved over centuries of mercantile experience. A combination of common sense, logic, and iteration has led retailers the world over to acknowledge the importance of store architecture in generating interest, closing sales, and retaining customers.
First impressions
Retail store architecture concerns vary from store to store, but some fundamentals are always true. The process begins with the storefront. One way to make your store stand out is through a striking architectural facade. Consider your brand: Is it sporty and fun or edgy and high-tech? The materials and colors you employ on your storefront can send these signals to shoppers and encourage them to come inside. Birkenstock's Venice, California location provides a good example. Its facade is clean but retains the homey allure of the Birkenstock brand, clearly signaling to customers what kind of experience they'll have inside.
Another way retail store architecture can bring in new customers is through window displays. Brightly lit displays captivate customer attention and can be tailored to fit your brand with warmer lighting or harder lines. These subtle cues have a real effect on human perception, and tweaking them can help build the relationship between your brand and your customers — making them more likely to return in the future.
Breathing room
When customers feel cramped in a store, they're less likely to browse for extended periods, lowering the likelihood of profit-boosting impulse purchases, and making them less likely to return. High ceilings are one way to keep even a small space from feeling uncomfortably hemmed in, as are windows or mirrors. Wall-mounted shelving can also free up square footage in your store, helping the space to feel more open, comfortable, and browsable.
The longer you intend to keep customers in your store, the more valuable it becomes to provide services tangential to the shopping experience. In malls especially, shoppers are often accompanied by friends or family who may not have the same interest in your store but are tagging along for the outing. Keeping these patrons happy with rest areas and other points of interest will let shoppers browse a little longer guilt-free.
Multiple floors
Having more than one floor of merchandise can cut in two directions when it comes to customer behavior. On the one hand, more floor space offers the chance to sell more goods and encourages customers to spend more time in the shop. On the other hand, research shows that customers tend to favor the first floor of a store. That may be because stairs and elevators can interrupt the flow of customers, which could hurt customer retention.
Multiple-floor operations appear to work for at least some bigger stores and can carry a luxe, classic feel that may bolster your brand; you'll need to make the call for yourself whether the potential flow disruption is worthwhile.
Case study: Apple
As it so often does, Apple proved itself an innovator in retail store architecture when it began opening brick-and-mortar locations in the early 2000s. These stores employed light wood and glass as their primary elements, contrasting starkly with surrounding stores and signaling Apple's clean, minimalist, and futuristic aesthetic. This approach to architecture mirrors and enhances Apple's approach to technology.
The stores themselves feature an open floor plan that offers a clear view of products, high ceilings, flex space for demonstrations and other in-store events, cashier-less checkout, and a concierge-style help center. Passersby are drawn to the beautiful aesthetics of the building and can see from outside the front door everything happening inside. Thanks to the open design, the stores rarely feel cramped, even at peak hours. And because Apple stores get so busy, they incorporate rest areas for shoppers and their companions to stay comfortable throughout their visits.
All of these elements combined with Apple's industry-leading products brought in $5,546 per square foot of store in 2017, making its brick-and-mortar locations the most successful in the country by that metric.
How can technology help?
Customer attraction and retention don't end with architecture. Modern retail technology provides new ways to attract and engage customers, from real-time mapping to immersive in-store experiences. Digital infrastructure can also enable deep customer data analysis and drive revenue through AR advertising. If you're ready to learn more, read our free ebook.