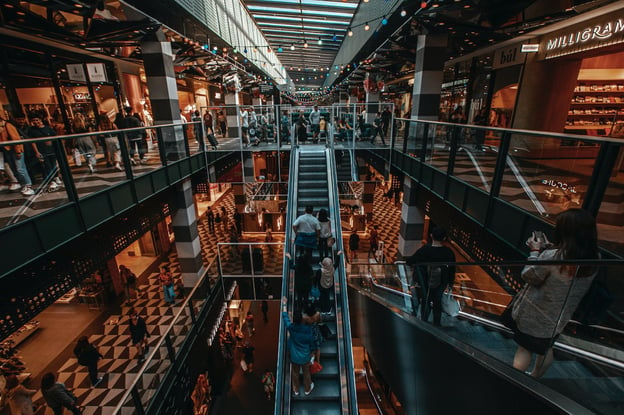 The shopping mall experience has undergone significant change in the past few years, and after two years of isolation, consumers are ready to return to the mall. If you're responsible for a shopping mall floor plan and are ready to create a fun, favored, and profitable location, you must adapt to new consumer sentiments and embrace technologies that will dramatically improve your mall's performance. Here are 7 ways to rethink your shopping mall plan going forward.
Jump to a section…
Remember, it's not just shopping anymore
"Food is the new Fashion" and AR is on the rise
Embrace new technology and advanced analytics
Keep your mall fresh with online-superior events
AR transforms your mall into an intelligent, digital space
Expand your knowledge of shopping mall design and best practices with The Planner's Guide to Mall Design.
Remember, it's not just shopping anymore
The rise of ecommerce means consumers have fewer reasons to need to visit the mall, but after two years of captivity, they definitely want to. Today's shopper wants to go to the mall to meet a variety of needs: entertainment, leisure, dining, and, of course, shopping. It's therefore paramount that today's shopping mall plans bear that in mind.
Food and dining are a big driver for visits, and we'll cover that in greater detail below. Successful malls also incorporate cinemas, play areas, gaming arenas, and even bowling alleys into the mall experience. Some of the world's most spectacular malls, like Mall of America, feature amenities as grandiose as amusement parks, aquariums, and water parks. Your mall may not need to go quite this far, but you do need to think about experiences that will drive foot traffic. Celebrated urban and retail planning thought leader Hussam Raouf's article, "How to Design a Shopping Mall," is a must-read for those looking for modern insights into shopping mall planning.
"Food is the new Fashion" and AR is on the rise
The number of consumers who shop mainly in-store for apparel is down dramatically, according to a report from Deloitte Canada. In outlining that shift, Deloitte noted that "Food is the new Fashion" in malls, with dining options replacing apparel as the main attraction drawing traffic. Dining out has universal appeal across all consumer segments. And, Deloitte notes, the social experience can't be replaced online. When Deloitte asked consumers what amenities would encourage them to make the trip to the mall, the top response was "a great assortment of food and restaurants for dining or take out, including a food hall."
Deloitte concluded that "smart mall owners are viewing food and beverage venues as the new anchor that will enhance their destination appeal." Meanwhile, another study points to augmented reality as another strong way to drive retail traffic, with 71 percent of respondents saying they would shop more often if they could use AR. On top of that, 61 percent of respondents said they'd be more likely to choose to shop at stores that have AR over ones that don't, providing another opportunity to set your mall apart from the competition.
Anchors away
Deloitte's US practice had its own take on how changing consumer behaviors are creating new opportunities for mall operators. While the entire article is an excellent resource, we wanted to focus on their insight to "use consumer behavior analytics to determine the appropriate tenant mix for each location."
Deloitte notes that there are approximately 750 anchor vacancies in US malls, particularly in Class B & C malls. As traditional anchor tenants like department stores have cut locations, there is an opportunity to reimagine what retailers make sense as anchor tenants. Deloitte's cross-selling data suggests grocery stores, which not only performed well during the pandemic but which have a "high cross-shopping propensity" with other retailers, could be a viable replacement. Other non-retail tenants being introduced as new anchors include hotels, bowling alleys, and casinos.
Use mall floor plan templates
A great way to get started with, audit, or optimize your mall floor plan is via some of the templates you can find online, like this one from Edraw. You can also study maps for modern, well-received malls to find some design inspiration, such as the American Dream mall in East Rutherford, New Jersey or The Galleria in Houston, Texas.
Embrace new technology and advanced analytics
Brick and mortar retailers have been late to the game in collecting data about their customers, particularly when compared to online retailers who use it to offer personalized, optimized and profitable shopping experiences. Mall operators now have powerful technology and proven new tools at their disposal to begin to level the playing field.
A McKinsey report, "Boosting mall revenues through advanced analytics," states that "we've found that malls already have access to significant amounts of data, including data on shopper behavior, tenant sales, and category performance. What they don't typically have are the analytical skills and tools to generate insights from the data. Most mall operators still make decisions based on tradition, experience, or intuition — thereby leaving value on the table."
There may be no more effective way to gather this kind of data than with the very same mobile navigation apps that help visitors find their way around the mall. On top of getting people where they want to be, they allow owners to collect much-needed data on consumer journeys and traffic throughout their visits. Analytics pulled from modern indoor navigation and wayfaring solutions can help inform the mix of stores in your floorplan, understand and plan store adjacencies to maximize revenue as well as extend mall visits, and even drive more informed rent negotiations with tenants.
Keep your mall fresh with online-superior events
The variety and fun introduced by limited-time shopping events shouldn't be the sole purview of online retailers. Another way operators can adjust their mall floor plan to meet the evolving customer preferences is to introduce pop-up stores selling differentiated products for short periods of time. This is a great way to tap into consumer appreciation of fresh, customized experiences — and will lead to customers coming back to the mall to see what's new instead of always expecting the same anchors and retailers.
AR transforms your mall into an intelligent, digital space
Many new technologies help mall operators compete with ecommerce. One of the most exciting is mobile augmented reality (AR) which can deliver highly immersive and engaging experiences with little more physical infrastructure than the mobile devices your customers already own.
Resonai's Vera is a complete digital infrastructure that transforms retail stores and shopping malls into intelligent digital ecosystems.. With Vera, retailers can create new media units anywhere in the space, launch AR content and immersive experiences, personalized ads and promotions, AR tutorials for employees, and even support their merchandising strategies by using AR to help automate and test strategies more quickly.
Mall floor plan designers can use AR to:
Vastly improve customer engagement by helping consumers navigate, find relevant products, and access personalized ads and promotions in real-time.

Automate store planning, and replace planograms and manual systems, while providing real-time visibility & data analytics down to the shelf level.

Provide more engaging employee training to keep employees connected and address high churn rates. AR tutorials provide visual instructions to ensure better store setup and compliance.

Enrich customer data. Data is gathered from mobile phones, product interactions, and photo streams to map shopper flows, traffic patterns, access detailed user behaviors, and inform processes.
Consumers love AR too. A Retail Perceptions report found that 40% would be willing to pay more for a product if they could experience it through AR; 61% of shoppers prefer to shop at stores that offer AR, and; 71% of shoppers would shop at a retailer more often if they offered augmented reality.
If you'd like to learn more about implementing artificial intelligence and augmented reality to enhance the customer shopping experience and increase revenue in your mall, download our retail ebook here. Or, get in touch with Resonai today and set up a free demonstration.