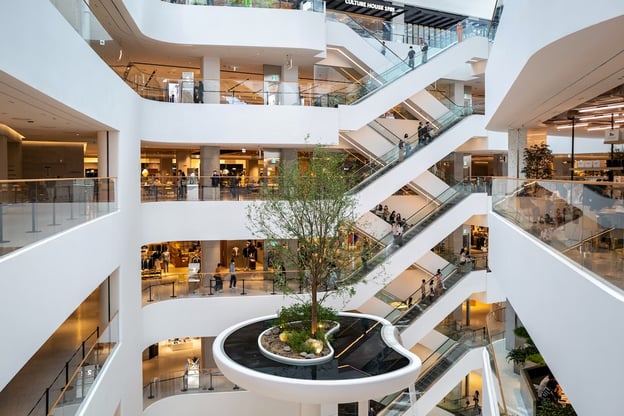 Despite the many trend pieces announcing its imminent decline, Americans are not done with the mall. After all, where else can one visit an interactive art gallery, pick up some V-necks, and enjoy a pretzel under the same roof?
Mall foot traffic was up by 5% from pre-pandemic levels in June 2021, fueled by the renewed need for socialization after years of COVID-related shutdowns, and even Amazon, the king of online retail, now has a brick-and-mortar in a mall. Shopping mall design standards are changing to accommodate consumers looking for unique experiences, and retailers are embracing technology to boost engagement and gain new insights into patrons' needs. This list of mall design standards can help you make design decisions for an immersive, modern shopping experience.
Jump to a section…
Building materials and design elements
Emerging trends in shopping mall design standards
Expand your knowledge of shopping mall design and best practices with The Planner's Guide to Mall Design.
Site selection
Malls were historically associated with the suburbs, acting as a substitute for bustling downtowns — as much a gathering place as they were a shopping mecca. However, malls can thrive in urban centers, with places like The Grove and Sherman Oaks Galleria in Los Angeles and Hudson Yards in New York drawing in tourists and locals alike. Some things to consider before selecting a site:
Zoning regulations: Large retail centers such as malls can only be in areas zoned for commercial or mixed-use development. Make sure to go over the specific regulations in your area with a legal expert specializing in commercial real estate since local codes will dictate the shape, size, and style of your final design. Everything from curb cuts on sidewalks to the maximum ceiling height will be influenced by various local permitting agencies.
Transportation options: Think about how patrons and vendors will get to and from your location. If you're eying the suburbs, figure out where your location makes sense in relation to major highways. If you're planning an urban mall, you'll need to think carefully about how vendors can access you and whether or not the site is near major transportation hubs.
Parking: Even if your site is located in a city center, you'll need to make room for some parking spaces in your plans. Parking is even more pertinent for malls located in the suburbs or where the car is the dominant form of transportation. The general rule of thumb is one parking space per 200 square feet of retail space, however, your needs may vary based on your local regulations and projected visitor count.
Competition: Consider how many malls or other large shopping centers are already in the area and whether or not your desired retailers have stores nearby. In case there is another mall in a 10-mile radius, you'll need to do market research to figure out if the customer base will support two large shopping centers in close proximity and look for ways to differentiate yourself from the competition. Many retail properties are looking at creating digital infrastructure — a digital twin — of their physical property as the next step to unlocking new experiences for their customers. You can find more information about the value of digital infrastructure for retailers in this ebook.
Building materials and design elements
Malls are evolving. From community hubs for newly built suburbs in the 50s to fountain-in-the-middle havens for teenagers in the 80s, they are now re-emerging as entertainment centers catering to consumers of every stripe. Creating a smart design that fits the ethos of your neighborhood and target consumers can go a long way to making the project a success. Here are some mall design guidelines to think about:
Layout design: The anchor tenant model is considered standard in mall design, with a few core stores serving as the biggest draws for consumers and supporting the smaller businesses. However, traditional anchor stores for malls (think Macy's, JCPenney, or Nordstrom) have fallen on hard times. In response, some malls are rethinking the anchor tenant model by using restaurants, entertainment centers, movie theaters, and even office spaces as main attractions.
Building materials: Aluminum, steel, and glass are the usual suspects in most modern mall designs. Retailers are leaving behind the giant box looks of yesteryear for sleek modern architecture. Reusable, eco-conscious materials like reclaimed wood can be added as accent features and in outdoor spaces, and working with locally sourced materials can reduce the carbon emissions that usually result from long-distance hauling of goods to construction sites.
Energy efficiency and environmental considerations: Malls can reduce their energy expenditure by installing LED light fixtures, utilizing motion sensors, and being conscious about keeping HVAC systems in good condition. Adding green spaces and patios with plants can offset carbon emissions, as well as provide mini-habitats for birds and a pleasant respite for shoppers.
Interior design and aesthetics: Whether you're planning to build an indoor-only mall or have a mix of indoor and outdoor spaces, thoughtfully placed decor, furniture, and the overall flow of one area into another can significantly affect shoppers' experience. If you're following the anchor model, this is also a good time to involve your retail partners in planning foot traffic patterns that maximize profitability by encouraging browsing.
Security and accessibility
Safety, accessibility, and security are crucial parts of shopping mall design standards. Some accommodations, such as having a certain amount of accessible parking spaces and bathroom stalls, are required by law. From wheelchair-accessible ramps and parking spaces to safety considerations during emergencies, these items are a must for any new retail center:
Evacuation routes and emergency exits: Your main entrance, anchor store entrances, and emergency exits need to be built in tandem with a thoughtful evacuation plan. Fires, active shooters, power outages, and other incidents are all threats you have to plan for and consider when designing a shopping mall. Communicating evacuation routes and procedures to the public via digital signage or through the use of digital indoor navigation is equally important.
Accessibility features: Features like ramps, accessible restrooms, and parking spaces are required by the Americans with Disabilities Act (ADA), but the specifics will vary by state. You may also want to include guided navigation features for people with hearing or vision disabilities. It's best to incorporate accessibility features early into your design with the understanding that they enhance the experience for all your shoppers — for instance, ramps are helpful not only to those in wheelchairs but also to people using canes, crutches or walkers, as well as very young children and people with strollers or carts.
Loss prevention and security: Shoplifting, employee theft, and accidental inventory mishandling can create shrinkage and loss for your tenants. While individual stores may want to implement additional security measures, you will need to install security cameras in common areas and engage a security service to help you with remote monitoring, safety patrols, and incident response.
Emerging trends in shopping mall design standards
Digital innovation is, paradoxically, coming to the forefront in brick-and-mortar retail. Shopping mall design standards now include augmented reality to engage shoppers and provide retailers with valuable insights into customer preferences. Resonai's computer vision enterprise program, Vera, helps retailers build and manage digital twins of their premises that allow for indoor navigation and an enhanced shopping experience. If you're ready to learn more, get in touch with Resonai today and set up a free demonstration.