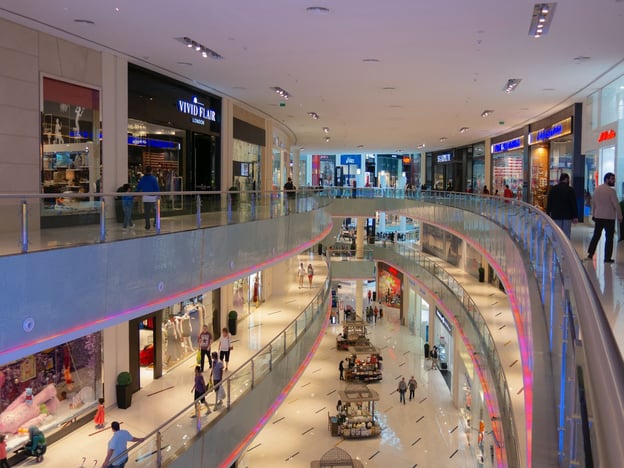 The global pandemic took a toll on retail, especially mall foot traffic. But the "death of the mall" was widely misrepresented. Shopping habits and trends have changed, and some changes will be here to stay, but the true picture of what happened, and is still happening, is much more nuanced.
It's therefore critical to explore more than a simple point of mall foot traffic data pre and post-pandemic. We've assembled a broad range of data points and trends to explore the many factors impacting mall foot traffic, from the role played by distinct COVID-19 variants to supply chain disruptions, rising gas prices, and inflation fears.
Jump to a section
The pandemic's influence on mall foot traffic
Consumers display greater comfort in outdoor malls
Summer 2021 surge toppled by supply chain issues
Simon Property Group bucks the trend
Rising gas prices add to the challenge
Headwinds expected to continue

Read more on all the ways retail foot traffic impacts you (and how to capture it!) with "Retail Foot Traffic: The Essential Guide"
The pandemic's influence on mall foot traffic
Looking at the impact of the pandemic on malls from the widest lens, it's clear COVID-19 was a major challenge, as the average mall foot traffic dropped nearly 90% at the outset. Shopper analytics company Springboard noted that it gradually improved to being 66.8% below 2019 levels by the end of 2020.
Online shopping had been gaining share for years, but being kept at home in forced isolation accelerated this trend exponentially. In fact, the single biggest factor in the decline of foot traffic at shopping malls has been the rise of online shopping. Even as consumers yearn for socialization and emerge from isolation, the convenience and cost-saving of online shopping will change consumer behavior to some degree.
The pandemic had other unforeseen impacts as well. Without the need to go to an office each day, consumers adopted new work-from-home lifestyles. As they no longer had to live where they worked, millions relocated to the suburbs or even further afield. As a result, suburban shopping centers have seen faster recovery than urban retail; in fact, suburban retail traffic has nearly returned to 2019 levels.
Though suburban foot traffic has recovered, urban shopping centers and malls are still seeing foot traffic 16% under pre-pandemic levels. Markets like New York have long relied on international visitors to boost retail sales. In fact, according to JLL Retail, global visitors fueled more than $43.4 billion of shopping sales in 2019. This all but disappeared in 2020, with the introduction of travel restrictions.
Consumers display greater comfort in outdoor malls
Data from Placer.ai unearths another geographic impact beyond urban vs. suburban. Mall foot traffic was down 6.5% at indoor malls in September 2021 as compared to only down 5.2% at outdoor malls. That's a less steep decline than six months prior, when indoor mall foot traffic was down 21% and outdoor was down 8.4%, but it's a fall nonetheless. Clearly, where consumers had the opportunity to socially space in outdoor environments, they took advantage.
This trend continued into 2022, according to Placer. In January, visits to indoor shopping malls were down 12.2% compared to January 2020. For comparison, there was a 3.5% drop in December 2021 versus two years prior. Fortunately, as COVID-19 cases subsided, mall visits began to rise once again by mid-February.
Summer 2021 surge toppled by supply chain issues
During February 2021, brick-and-mortar establishments were able to let out a sigh of relief as foot traffic began to slowly pick back up. Due to the sharp decline of Covid cases during that time, the retail, restaurant, and entertainment industries all gained. Average foot traffic in February 2021 was up by 9.29% compared to January 2021. That number was even higher in 2022: up 27.44% compared to January 2021.
By summer, signs of a resurgence were showing, especially in certain regions of the country as people yearned to get out after nearly 18 months of restrictions. A study from INRIX, a transportation data company, found that as of June, national mall visitor numbers exceeded pre-pandemic levels by 5%. This comes after visitation dropped by 91% in April 2020, the height of the pandemic.
But by late August, the Delta variant of COVID had pushed visits back into negative territory over 2019 comparisons across the country. As of January 24, 2022, foot traffic for overall retail visits was down 7.7% over January 2019 numbers.
Later in the year, different challenges surfaced. According to Placer, October saw a nice boost only to have November and December impacted by supply chain challenges, inflation, and the onset of Omicron.
A healthy Black Friday
That being said, retail foot traffic rose 61 percent Black Friday 2021 compared to the previous year, according to RetailNext. Pent-up demand and more free cash pushed average transaction value per shopper up 18% over 2019, which put overall sales at just 5% lower than two years ago.
Stepping through 2021's mall foot traffic statistics month-by-month illustrates some of the many ways consumers adapted to the virus and its impact on their lives. For the full year 2021, Placer.ai breaks out how several individual apparel retailers fared. Foot traffic for all apparel stores was down 5% for the year (2021) compared to 2019. Further:
In November, apparel suffered a 9.4% decline in foot traffic versus November 2019.
Traffic at Macy's and Kohl's was down 19.1% and 12.6%, respectively, from January through November.
More dramatically, JCPenney and Belk saw foot traffic drop by 28.1% and 21.9%, respectively, over the same period.
However, on a brighter note, perhaps illustrating how different socio-economic groups experienced the pandemic differently, Saks Fifth Avenue saw traffic increase 6.2% in 2021 from 2019.
Simon Property Group bucks the trend
Another player that experienced positive momentum was mall operator Simon Property Group. When Simon shared its third-quarter earnings report, posting $2.07 per share — nearly double analysts' expectations. Simon credited the strong performance with a resurgence of the mall. The company also offered exciting news on its shopping mall traffic statistics: Foot traffic is returning and people are shopping again. In turn, new stores are taking up residency in Simon malls in a bid to take advantage of that growing traffic.
Rising gas prices add to the challenge
Not all challenges have been pandemic-related, however. Rising gas prices are also having a clear impact. Placer.ai examined mall foot traffic data to find out how rising gas prices and elevated food prices are impacting retail visitation trends. During the week of March 7th, 2022 nationwide overall retail visits declined by 4.3% compared to the equivalent week three years ago — the most severe decline in weekly retail foot traffic over the past twelve months that wasn't directly tied to COVID. If this trend continues, the rise in retail gas prices is likely to continue to negatively impact retail traffic, particularly those retailers that have greater exposure to lower-income consumers where gas makes up a higher percentage of household budgets.
Headwinds expected to continue
And yet, despite some positive signs of progress, more change is needed and malls will continue to confront headwinds and changing consumer shopping behavior. Placer.ai reports that mall foot traffic has yet to recover to pre-pandemic traffic levels. When looking at a year-over-year three-year comparison for March, foot traffic was down 9.5% for indoor malls, 9.7% for open-air lifestyle centers, and 15.4% for outlet centers.
Retail property owners need to find a way to make their brick and mortar locations worth shoppers' efforts. Offering quality goods at reasonable prices is no longer sufficient; the outing itself has to be compelling. Augmented reality is one of the most engaging ways to enhance and personalize the shopping experience for consumers, as well as being a potential new source of revenue for property owners.
Resonai's Vera platform is one such toolset with the added benefit of being easy to use. It helps business owners and property managers perform retail foot traffic analysis, making it easier to design product flows, provide personalized assistance to customers, and keep track of your store's or building's maintenance needs. Are you ready to learn more? Get in touch with Resonai today and set up a free demonstration.