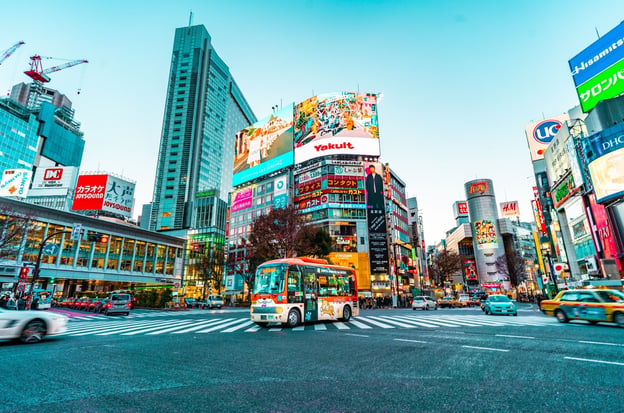 Retail digital signage is in a period of massive growth across a wide cross-section of industries. It's easy to see why — data shows that interactive signage grabs more attention, influences purchasing decisions, and boosts sales compared to conventional signage. Setting up digital retail displays for your own business or property may seem like a daunting task, but it doesn't have to be. Our guide covers the benefits of digital signage, what to look for in display technology, how to effectively measure ROI, and much, much more.
Jump to a section
Retail digital signage increases consumer engagement
Give shoppers unique ways to interact with your brand or building
Understand what you're looking for in a digital screen before buying
Determine the best display hardware for your budget
How to choose the right digital signage software platform
A great display system will get people's attention
Pick the right measurement methodology to maximize your ROI
Retail digital signage is a proven money-maker
Stay on top of the latest retail digital signage trends
Retail digital signage increases consumer engagement
The versatility in digital signage provides a wealth of opportunities for your business or location that static media simply can't.
Customers are inundated with signs, directions, and advertisements everywhere they go within a retail environment, and LED retail displays can push through the noise with enticing animation and interactive ad content. Visitors can reach out and touch these displays or use voice activation, creating an experience that not only provides for greater engagement but also allows for improved data gathering on the shoppers who interact with them. The kinds of tracking codes and metrics typically reserved for websites can be used with digital signs — think QR codes with analytics tracking embedded in the URL — which can help generate actionable data to maximize ROI.
The natural strength of digital retail displays is their ability to feature more information and be updated far more rapidly than traditional signage. Their unique benefits allow you to leverage them as sources of additional ad revenue. A larger display in a high-traffic area can provide ad real estate for nearby shops, products, or brands in exchange for a fee, and unlike static ads, digital signs can cycle through as many ads as you'd like with lower overhead when it's time to swap them out.
The benefits of making the switch to digital signs are numerous. To learn more about the ways digital retail displays can improve your business, read The 6 Biggest Benefits of Digital Signage in Retail.
Give shoppers unique ways to interact with your brand or building
While digital signage can be used to display ads for products and sales, or more general directory information, it can also be used to give shoppers and visitors novel ways to interact with your brand, products, and more.
Uniqlo turned an interactive retail display into a "magic mirror" of sorts, allowing shoppers a chance to check out the clothes they were trying on, as well as instantly see other color and style variations without needing to step away from the screen. Other stores use retail displays as a way to drive users to e-newsletter or loyalty program signups. These features prove to be massive successes — 74% of retail leaders said that digital signage enhanced the customer experience.
Digital signs aren't just great for retail operations. Property managers can also use the screens to provide directories for malls and large buildings, giving users the ability to zoom in and out as they would on their phone, and display important information in the event of an emergency.
Check out How Interactive Digital Signage in Retail is Driving Results for Store Planners for more information on the unique opportunities digital signage can provide for your business or building.
Understand what you're looking for in a digital screen before buying
Before setting aside money to purchase displays, it's important to know that not all screens are made equal. While it may be tempting to pick up whatever you can find on sale at your local big box retailer, consumer displays are often not up to the rigorous task of 24/7 operation or dealing with inclement weather.
There are a plethora of options available to you, with each display category offering its own strengths and weaknesses. Tablets provide a personal touch, and are great as interactive kiosks or shelf displays, but will need to be replaced often due to daily wear and tear. Larger displays run the gamut between monitors (typically between 17 to 32-inches), or larger flat-panel televisions, with or without smart features built in. It's not out of the realm of possibility to find TVs 85 inches in size — or even larger!
While consumer versions of these devices can work in a pinch, companies produce models of these displays for commercial (or even industrial) use. These models are designed to run longer without screen burn-in, are more durable, and are more reliable outdoors. You'll likely also get a better long-term warranty out of commercial displays compared to their consumer counterparts.
There's a lot to learn about display technology, media players, and even knowing what to look for in a hardware vendor. Make sure you know exactly what you need with our Digital Signage Hardware: What to Know Before You Buy guide.
Determine the best display hardware for your budget
Knowing what kind of digital retail display you need is only half the battle. Now, you need to pick the perfect model for your business.
The market for tablets, TVs, and even media players is vast, with countless screen sizes, touch panel options, smart interactivity, and so much more. We've sifted through the endless array of displays available for each business case and selected a few that provide a convergence of affordability, reliability, and usability.
For tablets, you want to find a good balance between usability and affordability. Because these devices will likely be handled and prodded by hundreds — if not thousands — of people in a given day, they'll likely need to be replaced far more often than other displays. The Mimo Adapt-IQ 7" tablet is a great pick, as it's built for commercial use, and is meant to withstand 24/7 abuse in a breadth of retail environments.
For larger screens, consumer and commercial television screens provide different options based on your budget or use case. The Scepter 65-inch 4K TV offers a vibrant, high-resolution content display, and while it's not necessarily built for commercial use, its lower cost means it's easier to replace. For a commercial TV built to display digital signage during a long business day, the Samsung DC-E Series 55" is tough to beat. And with the built-in MagicInfo Lite Player, you can display a looping reel of videos and images from built-in or external storage, and control multiple networked displays remotely.
Read our Digital Signage Displays: A Hardware Buyer's Guide for more of our top-rated picks.
How to choose the right digital signage software platform
When looking for a retail digital signage software platform, there are a few things to keep in mind.
You'll want a sign that is intuitive for customers to interact with, while allowing for a combination of media assets and scalability if you decide to ramp up your ad presence. Compatibility with operating systems and software you already have is a plus, and you'll also need to make sure the price fits your budget.
We've done some of the hard work for you by looking through dozens of potential platforms and picking out a few of our favorites. Read our rundown of The 4 Best Retail Digital Signage Software Platforms.
A great display system will get people's attention
Picking the right display is important, as you'll want a screen that properly captures the vibrant colors and fluid animations of your ads to catch your customers' attention. There are a variety of options available depending on what you're looking for.
For those looking for as much of a hands-off approach to digital signage as possible, Convergent's "digital signage as a service" will likely fit the bill. Convergent offers plans that will manage the installation and maintenance of your digital screens, as well as provide creative content and deployment. There are also included analytics services that will track results for your campaigns and adjust as needed to hit your goals.
If you're looking to set up a video wall, Planar might be the best choice for you. Their LED retail displays are scalable for any size wall or storefront — you can even use their virtual wall calculator to find the right sizing and orientation to make any flat surface more dynamic and vibrant.
And if you want something that will last into 2022 and beyond, Vera by Resonair's augmented reality displays help future-proof your business. Vera uses digital twins which, when coupled with the Vera app, allows customers to experience an interactive, virtual replica of their physical space through an augmented reality experience provided by their own smartphone.
Check out these and other options to fit your needs in The 7 Best Retail Digital Video Display Systems for 2022.
Pick the right measurement methodology to maximize your ROI
Without proper measurement in place, your ad and signage performance — and subsequently your return on investment (ROI) — will remain a mystery. This will prevent you from identifying weak spots and making effective improvements.
It's important to understand what methodology you want to use before you begin measuring the impact of your digital signage. You can conduct surveys with a sample of your customers to find out how people are reacting to your signs, or place hashtags on your ads and track their use across social media. A seamless way to gather data is to include QR codes with unique tracking links, or even use the tech built into digital signage — like cameras, wifi, and more — to provide a picture of how effective your signs are.
The two most common retail KPIs to keep in mind when you're gathering information using your chosen methodology are average dwell time and session count. Average dwell time measures how long customers spend in front of your digital sign. Session count can be used to track physical interactions with your sign, such as how often a customer taps on a specific button.
Combining these tools can give you the information you need to maximize your digital sign's ROI. Learn more about How to Measure the ROI of Digital Signage in Retail so you can get actionable data and get the most out of your signage.
Retail digital signage is a proven money-maker
Interactive signs and ad placement don't just help customers find what they're looking for, they're also proven to increase profitability.
Of course, helping customers navigate a mall or store will allow them to purchase the item they came to buy in the first place. But displaying advertisements on new products in key locations, when customers are at their most activated, can positively influence spending. Partnerships with products or brands can bring in ad revenue, while clever placement of digital signage can inform customers of those products and increase sales. Plus, it's easier to swap out digital ads than print, with much lower overhead.
Digital signage is also far easier to personalize, providing opportunities to sign up for and interact with loyalty accounts. And because digital signs are easily updatable, you can provide a fresh experience for your visitors. The novelty of interactions provided by digital signage opportunities leaves a proven, lasting impression on customers, which will help increase your bottom line.
Check out our guide on Digital Signage for Malls: The 5 Most Profitable Use Cases to learn more about how digital signs can increase revenue for your business or building.
Stay on top of the latest retail digital signage trends
Improved display technology and the ongoing COVID-19 pandemic have shifted consumer habits, and digital signage yields ample opportunity to adapt to these trends.
For instance, the increase in contactless and curbside delivery has seen a resurgence of QR code use. Retailers have found ways to use QR codes to easily link customers to loyalty programs, social media pages, store websites, or redeem discount codes. Recent studies have shown that 45% of shoppers are using at least one QR code every three months, and digital displays are uniquely suited to dynamically provide these codes to your customers.
Digital signage is also making a significant push into augmented reality, giving customers unique ways to shop and navigate within physical locations. A well-placed sign can provide customers an opportunity to get directions to a department or specific product, with navigation tailored to their specific location in the store. Stores can also give customers a chance to see what certain products, like furniture or decorations, look like in different rooms, environments, or under different lighting conditions.
Knowing these trends can help you plan your ads and take advantage of the strengths digital signage has to offer. Make sure you're up to speed with the 4 Digital Signage Industry Trends Store Planners Need to Know.
Are you ready to learn more? Get in touch with Resonai today and set up a free demonstration.