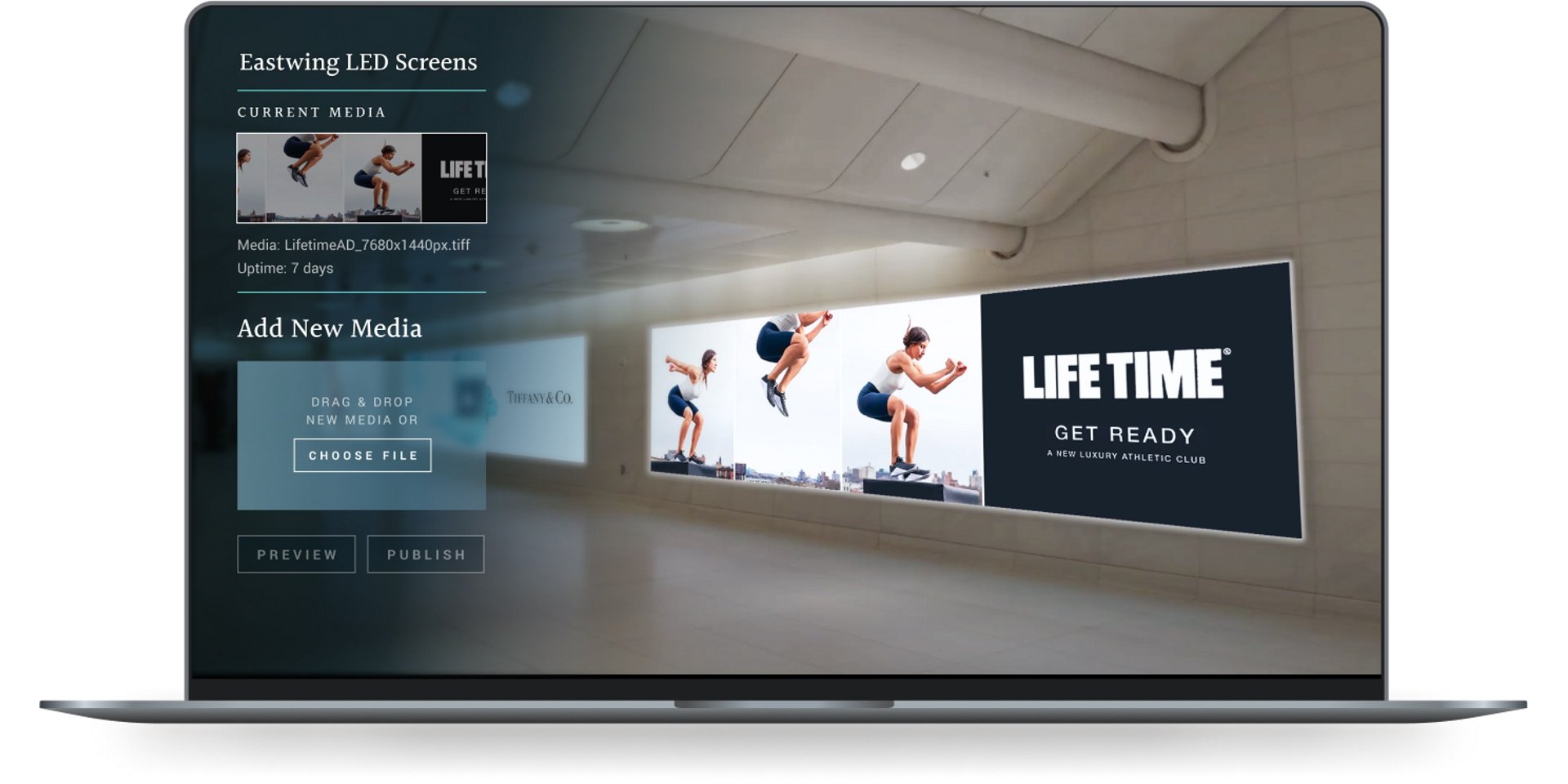 The lines between digital and physical shopping experiences are becoming increasingly blurry. To stand out from their competitors and create a cohesive multichannel experience for consumers, brands with brick-and-mortar locations are turning to retail digital signage software. Digital signage has been shown to increase brand awareness and recall rate, as well as capturing 400% more views than static displays.
With results like that, it's no wonder that the worldwide digital signage market is expected to be a $32 billion industry by 2023. However, the rapid growth of retail digital signage software platforms means that it's harder to find the one that's right for your brand. To make it easier to jump into the world of retail signage software, we've rounded up five of the top platforms designed to suit any brand identity and budget.
Looking for more ways to elevate your retail experience with digital signage? Check out our article, Retail Digital Signage: The Ultimate Guide.
Jump to a section
What is retail digital signage software?
The best retail signage software platforms
Combining digital and physical spaces
What is retail digital signage software?
Digital signage refers to screens in brick-and-mortar stores that display information digitally, while retail digital signage software refers to the platforms that support this technology. These signs can display a variety of information, such as limited-time deals, ads, videos, brand assets, and more. On top of being easier to swap out than physical signage, digital displays have been shown to increase in-store traffic and convert window shoppers into paying customers.
When choosing the right retail digital signage software platform, there are several factors to keep in mind:
Interface: Is the platform intuitive and easy to navigate?
Creative assets: Modern digital signage software lets retailers combine text, images, audio, and video; templates to help with the process are a plus.
Compatibility: Will the software work with your existing platforms (PC, Mac, Android, iOS)? Will you need to purchase additional hardware to get it up and running?
Scalability: Can you ramp up as needed without any major headaches?
Price: Does the software fit your budget?
Additionally, looking at client testimonials will help you get a better idea of the kinds of brands they work with and the benefits of each platform's retail signage software.
Back to top
The best retail signage software platforms
Yodeck
Billed as "unbeatably easy digital signage," Yodeck's cloud-based retail digital signage software helps clients design, schedule, and display content without breaking the bank. With solutions for a variety of industries and affordable monthly plans that start at $7.99 a month per screen, Yodeck makes it easy for retailers to begin their digital signage journey. The platform supports images, video, audio, documents, livestreams, web pages, and more, with plenty of stock images and videos to help with the creative process.
One thing to be aware of with Yodeck is that it runs on the Raspberry Pi platform, which might be confusing to those who aren't familiar with it. However, Yodeck does include preconfigured Raspberry Pi player kits with annual subscriptions, so users won't have to build their own from scratch.
Back to top
TelemetryTV
Used by brands like Starbucks, Carvana, and even the New York Public Library, TelemetryTV boasts a comprehensive digital signage toolkit. Like Yodeck, TelemetryTV is a cloud-based platform that allows users to manage their screens from a central location, with support for Raspberry Pi, Android, Linux, Windows, and Chrome operating systems.
TelemetryTV's biggest benefits are the ease in which users can set up their displays and the level of customization they have over their content. A drag-and-drop interface makes layouts easy, while custom playlists keep content fresh. At $54/month for the starter plan, which includes three device licenses, it's more expensive than some other options on the list. However, for established brands looking for a powerful, scalable, and customizable engagement tool, TelemetryTV is a worthwhile investment.
Back to top
OnSign TV
OnSign TV offers Professional and Enterprise plans that start at $19.99/month and $29.99/month per player, respectively, with discounts factored in for brands that require 25 or more players. The CMS platform is compatible with a large selection of operating systems, including Windows, Android, MacOS, and Linux, with multi-platform support meaning users can create the content once and execute it on any supported player.
In addition to giving users an intuitive interface to display dynamic, creative content, OnSign TV offers over 100 free apps on its platform, all of which are free for subscribers. That means retailers can integrate high-value data like weather, news, social media feeds, and more — all of which is updated in real-time. It's an ideal way to keep your digital signage fresh and relevant at all times while utilizing a variety of eye-catching creative formats.
Back to top
viewneo
With a comprehensive digital signage ecosystem that ranges "from a single screen to an AI-controlled smart store solution," viewneo offers options for retail signage software beginners and experts. That means brands new to the world of digital signage can start small with an $18/month per screen subscription, which offers hundreds of design templates and a comprehensive suite of starter tools, and eventually scale up to the $240/monthly enterprise plan as needed.
The viewneo platform is unique in that it offers both software and hardware, the latter of which expands on the CMS to incorporate smart in-store features like sensory clothing hooks and digital chalkboards. Again, the idea is to start simple and scale upwards as needed; users can get their digital signage strategy underway with the lean, inexpensive basic software and later incorporate more complex features. As for ease of use, according to viewneo's website: "If you can use PowerPoint, you can also use viewneo!"
Back to top
Combining digital and physical spaces
When it comes to attracting modern consumers with engaging brick-and-mortar retail experiences, retail signage software is just the beginning. Vera from Resonai uses computer vision to transform commercial buildings into intelligent digital environments that help shoppers navigate stores and unlock valuable new revenue streams for retail property owners with augmented reality media placements. Real-time data analysis lets you know how your placements perform, while smart merchandising leverages AR content to engage customers and deliver personalized shopping experiences.
Ready to learn more? Get in touch to request a demo!