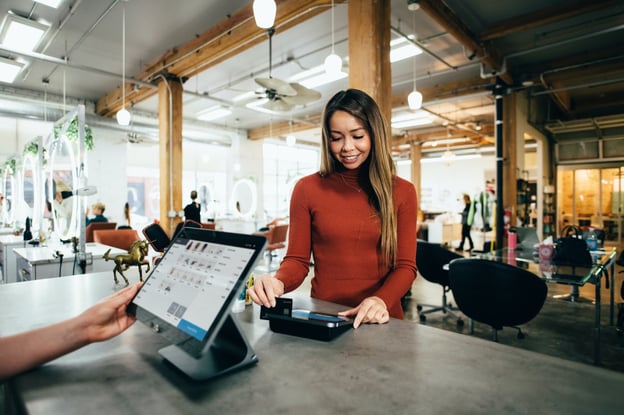 Recent developments in retail foot traffic trends prove that, while there was a lull due to the coronavirus pandemic, consumers are ready to spend time and money at physical retail locations once again. Online sales are on the rise, yes, but ecommerce sales pale in comparison to brick and mortar numbers.
New data provides some crucial insights into how modern commerce is changing and what businesses can do to meet shifting needs, as well as the trends that are driving those shifts. With this information, we can better understand what consumers are after and leverage the benefits of brick and mortar retail (and a sprinkle of technology) to help our businesses soar.
Jump to a section
In-store shoppers are switching brands when stock runs out
Retail "showrooming" is on the rise
Most shoppers still prefer in-store retail
Brick-and-mortar has a place in the metaverse
Read more on all the ways retail foot traffic impacts you (and how to capture it!) with "Retail Foot Traffic: The Essential Guide"
In-store shoppers are switching brands when stock runs out
As COVID restrictions lift and people return to (relatively) normal life, store visits are seeing an uptick.
However, just because consumers are heading back into stores doesn't mean that it's back to business as usual. Supply chains are strained, and consumers haven't suddenly become more patient. A December 2021 survey found that 60% of consumers faced out-of-stock products in Q4, but only 13% of consumers reported waiting for that item to come back in stock before making a purchase. Instead of waiting, 39% switched brands to find what they were looking for, while another 32% switched retailers.
Loyalty programs offered in-store are a good way to counter stock issues. It should come as no surprise that consumers are more dedicated to brands whose loyalty programs they're signed up for, so take advantage of that loyalty. Offer a program with tangible benefits and you're more likely to see customers return. You won't capture everyone that has a same-day need or is opposed to waiting for a product, but it can minimize losses from customers that earn points from their purchase or have a coupon. Of course, it's also important to get consumers back into your store, mall, or any other physical place of business, so make sure that some of the benefits incentivize in-person visits.
Retail "showrooming" is on the rise
The rise of ecommerce has changed how consumers approach shopping in some interesting ways. These days, 81% of retail customers do research online before making a purchase, and 54% of consumers are likely to take part in "showrooming": looking at items in-store but purchasing them online. Customers are starting and ending their shopping experience online a significant portion of the time and may purchase a product they saw at your store from a different retailer. The solution is to emphasize omnichannel shopping experiences to capture as many of these hybrid online/offline shoppers as possible.
There are plenty of ways that businesses can make their omnichannel strategy stand out from the crowd, from delivering personalized digital signage in-store to overhauling the online sales side of their business. Above all else, keep in mind that convenience is one of the biggest factors driving ecommerce growth; in fact, it outweighs brand loyalty as far as its importance to consumers. In fact, 97% of consumers reported backing out of a purchase because it was inconvenient for them. Omnichannel shopping just so happens to be the most convenient option for many people, allowing them to pop into a store or make a purchase online without too much fuss.
Your omnichannel experience should be consistent, provide information on current stock, and even contain a floor map of your store to help customers find what they need faster. For the customers that need to do a little more research after seeing a product in-store, offer some sort of tangible benefit to come back to the physical location or make the purchase through your website. More likely than not, even offering a slight discount on a product will be more profitable than letting the sale walk to another retailer.
Most shoppers still prefer in-store retail
While there's a lot of hype surrounding ecommerce growth over the past few years, it still can't match the effect brick and mortar retail has on consumer psychology. Consumers spend more in-store than they do online – in part thanks to impulse buying decisions – and they don't seem to be enjoying shopping completely digitally. A global survey done in 2020 found that only 15% of consumers were pleased with online shopping, with popup ads and website crashes being some of the most common causes of dissatisfaction. With that in mind, it's no surprise that retail foot traffic trends show customers returning to stores.
Those trends aren't entirely unexpected, either. An August 2021 report from Raydiant found that 48% of consumers prefer shopping at physical stores when given the chance. The survey also found that 82% of consumers are more likely to return if they have a positive in-store experience, and 64% are more likely to spend more if they have a positive in-store experience. These positive experiences also drive customers to buy from a store online, which further emphasizes why the omnichannel experience is crucial. It creates a cycle of acquiring customers and instilling them with a sense of brand loyalty, and it all starts with getting them to visit your store. We can leverage the information gleaned from foot traffic data to create these sorts of positive experiences. Traffic heat maps can be used to optimize store layout and product flow to reduce friction, help decide where to station employees during peak traffic hours, and give insights into what smaller tweaks your business strategy needs.
Brick-and-mortar has a place in the metaverse
The future of retail exists where the metaverse meets omnichannel shopping. Walmart's metaverse demo is an indication of where major retailers are heading, translating the real-world shopping experience of pushing a cart down an aisle in a digital world. It's a clever strategy; recreating brick and mortar stores digitally may push consumers to spend money online with the same gusto that they do at physical locations.
If businesses like Walmart are successful in this translation, retail foot traffic trends may start to show fewer people at physical locations as consumers find more comfort shopping from their homes. Right now, though, Walmart's demo is little more than a proof of concept. The store looks barren, and there have clearly been some sacrifices to visuals to keep the digital shelves from melting under-powered computers and VR headsets. That's not to say the concept is entirely dismissable, but people are quick to forget that the metaverse isn't strictly in virtual reality; it's also available in a far more readily available format. The best uses of the metaverse enhance customer experiences at physical locations using AR technology, which just about anyone with an up-to-date smartphone has access to.
Resonai's Vera platform leans into this approach, showing how consumers, individual businesses, and building managers can benefit from the AR metaverse. Digital signage, navigation, and information on sales are all available to consumers, while business and building owners get valuable insights into retail foot traffic trends, maintenance, and more. It offers a new channel for businesses to market their products and services through, and helps prepare for new challenges derived from shifting consumer behavior. Are you ready to learn more? Get in touch with Resonai today and set up a free demonstration.