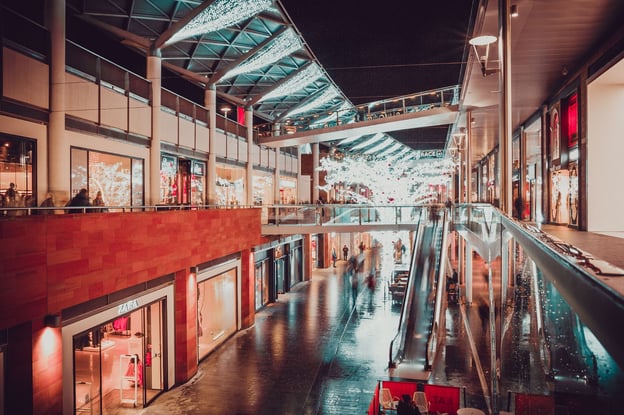 There are few things more frustrating in retail than an empty store. Low customer traffic is a harbinger of lagging revenue and wasted time, neither being conducive to a profitable business. However, we can successfully pull more customers into our businesses and buildings by leveraging existing assets in new ways, refining the customer experience, and enhancing the presentation of our facility.
Jump to a section
How customer traffic is measured and valued
Think of your commercial facility as a digital asset
Digital signage is a foundation for increased customer traffic
Use the metaverse to increase customer traffic
Use flash deals to keep customers coming back
Tap into the power of augmented reality
Read more on all the ways retail foot traffic impacts you (and how to capture it!) with "Retail Foot Traffic: The Essential Guide"
How customer traffic in retail is measured and valued
Customer traffic in retail is a valuable metric for gauging how much an individual business or entire commercial facility is worth. However, it's not the sole indicator for such conclusions, and is best measured in tandem with close rate and customer satisfaction surveys. Modern businesses have found innovative new ways to measure retail customer traffic and its value, which we've covered in more depth in this blog post. However, the long and short of the process is that businesses and facilities track their customer traffic with a range of tools, survey to determine whether customers are destination or walk-in shoppers, and then use that data to extrapolate what a business or facility is potentially worth.
Think of your commercial facility as a digital asset
Few industries have seen as big of a digital transformation as retail, but not in the ways one may assume. Alarmists painted the pandemic as a death rattle-inducing event for the retail industry, and while it did cause a lull, evidence shows that consumers are anxious to get back into stores. But it's naive to posit that nothing has changed in the hearts and minds of consumers after two years of being confined to homes. Today, consumers are after shopping experiences that are highly personalized and digitally driven. Changing how you view your facility on a fundamental level will help you rise to the occasion and pull in more customer traffic.
Reevaluate your strategy with the presumption that your commercial facility is a digital asset, not just a physical one. Whereas malls were once a place for people to socialize in a disconnected world, social media has changed how people interact, deemphasizing direct physical contact. We can blend this new social structure and leverage personalized experiences using digital toolsets to raise customer retention, increase spending and customer traffic, and provide a stellar shopping experience for guests.
Digital signage is a foundation for increased customer traffic
There are few things that a business can do that will attract customer traffic more than introducing digital signage. Whether it's placed around the perimeter of a mall or in individual stores, digital signage captures 400% more views than static signage and has an 83% recall rate. It's easy to see why, too. Digital signs are flashy and attention-grabbing, making them stand out in a sea of posterboard. Presentation aside, digital signs are also far easier to update when compared to the hours-long process of updating static signage.
Digital signage comes down to presentation. When we decide where to spend money, we naturally want to go places that make us feel important, a luxe treatment that digital signage can provide. Digital signage can't accomplish all that alone, but it can go a long way when coupled with a well-maintained facility. It's the most straightforward way to make your customers feel as though they've just found the cutting edge.
Use the metaverse to increase customer traffic
There's a clear trajectory for the metaverse right now, and it's evident that the intersection between physical and digital commerce is approaching at breakneck speeds. The writing has been on the wall for years, with refined omnichannel retail strategies becoming a key part of business throughout the pandemic. Forward-looking retailers and facility managers need to pay close attention to how they're developing such strategies, as omnichannel retail is another key part of increasing customer traffic.
Consumers are doing research online before heading into stores more than they ever have before, presenting new opportunities for retailers to grab more customers. Brick and mortar stores are able to offer something that online retailers can't do reliably: instant gratification. A customer can research a product online, see that it's available in a store, and purchase the item in the span of an hour. Instant gratification builds emotional loyalty, which in turn leads to returning customers that have higher lifetime value. Offer information about in-store or in-facility stock, where customers can locate that stock, and any other information that may be pertinent to a purchasing decision as plainly and obviously as possible. Doing so will compel more people to spend time in your facility.
Use flash deals to keep customers coming back
This is in an era of constant connectedness, and that means that customers are just a notification away from receiving your messaging. As you learn about their interests, you can begin to offer them personalized, limited-time deals and discounts that are built around individuals and that encourage them to visit a facility. It's a potent strategy when used in conjunction with digital signage, loyalty programs, and omnichannel shopping. Retail data shows that flash deals can generate a 35% lift in transaction rates, and they reward consumers for frequently checking in on your business.
Tap into the power of augmented reality
On top of a personalized shopping experience, customers also want a frictionless one. There are countless frustrations that get in the way of that goal, like difficulty locating a product in-store. However, many of these issues can be overcome by leveraging technology. At the forefront of that concept is augmented reality, which creates experiences that push shopping to an entirely new level. With augmented reality, businesses and facilities can provide their customers with a digital concierge, information about products and sales, pre-visit planning, and more.
Resonai's Vera platform is pushing AR to new heights, equipping facility managers with a plug-and-play digital toolset purpose-built to increase customer traffic, retention, and revenue. With the Mall Package, businesses can put augmented reality shopping into their guests' hands alongside digital signage, wayfinding tools, and more. Plus, it helps manage the behind-the-scenes work of running a business with in-depth facilities management tools. Are you ready to learn more? Get in touch with Resonai today and set up a free demonstration.