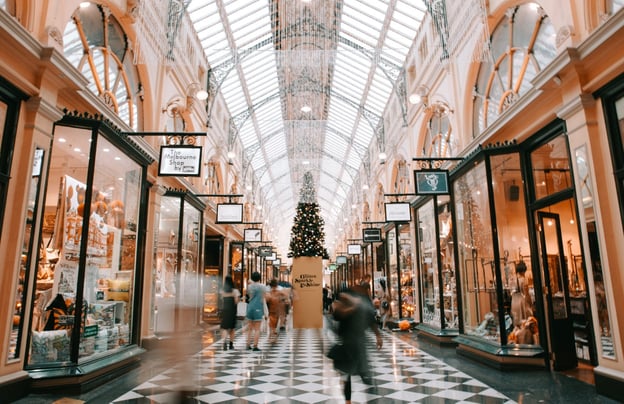 Brick and mortar retailers are facing increasingly stiff competition against ecommerce platforms, but the power of physical retail isn't going anywhere. Brick-and-mortar retail still accounts for the vast majority of sales, and continues to see a strong resurgence following the COVID-19 pandemic. Optimizing product placement, signage, and interior flow is crucial for long-term viability, but it's nigh impossible to perfect those elements without the right information.
Luckily, new digital tool sets have emerged to help businesses owners measure and calculate foot traffic data, though interpreting and applying that data is a challenge all its own. Here are some tips on how to calculate, measure, and apply data, plus the ways that digital experiences can help.
Jump to a section
Why retail foot traffic data matters
How to use foot traffic to inform decision making
Tools for measuring and calculating foot traffic
Read more on all the ways retail foot traffic impacts you (and how to capture it!) with "Retail Foot Traffic: The Essential Guide"
Why retail foot traffic data matters
Foot traffic data is valuable at every level of business. Whether you own a building or lease one, knowing who is entering or walking by and when can have a major impact on how you do business. Foot traffic measurements generate the insights you need to plan staffing, product placement, and even run sales.
For building owners, foot traffic measurements provide empirical data to back the pricing of media placements and advertisements. According to WebStrategies, an August 2021 CMO survey indicated that marketing budgets could soon return to pre-pandemic growth levels, and optimistically projected that growth could outpace any year in the last decade.
Providing tenants with rich foot traffic data can help capitalize on the projected marketing growth. Marketers want to make informed decisions about buying ad placements, and providing a data-backed CPM makes pricing more compelling. Knowing precisely how many impressions digital signage will garner in a high traffic area eliminates much of the doubt that marketers have about investing in advertising. The combination of eliminating doubt and higher marketing budgets can help building owners earn more through adjusting ad package pricing on digital signage. It can even go so far as to back up rental costs for specific stores in a building. It may cost a business $1,000 more a month for an ideal stall, but that's a bargain if the foot traffic is demonstrably great.
How to use foot traffic to inform decision making
Foot traffic is an essential part of developing a successful retail business strategy. For this example, let's use some theoretical foot traffic data to help compare potential sales between physical retail locations. This is important for both new businesses and building owners, as it demonstrates the value of paying higher rent in exchange for higher sales.
The first thing to do is to estimate the number of sales both buildings get from walk-ins versus destination shoppers. This will vary based on the specific need that a store is fulfilling, as a clothing store is going to garner more walk-in sales than a shop that solely focuses on cell phone repairs simply due to their nature. We'll use these two stores to show how paying higher rent may or may not be worth it.
For simplicity's sake, let's say that we're measuring foot traffic sales for two locations, one of which sees 10,000 visitors a day (Location A), while the other receives 5,000 visitors a day (Location B). For this example, our hypothetical clothing store gets 90% of its sales from walk-ins and 10% from destination shoppers. Determining which sales are from destination shoppers and which customers are walk-ins will take some work on your part. You can collect information manually, or leverage a retail analytics platform to help. Once that's done, it's time to do some math.
First, compare the foot traffic between the two locations. In this case, Location A gets twice as much foot traffic as Location B. Multiply that by the percentage of sales from foot traffic, and we can estimate a 180% increase in sales for our clothing store from the higher foot traffic location. If the increase in sales justifies the increase in rent, picking a location is easy.
On the opposite end of things is the phone repair shop that only gets 10% of its sales from walk-ins. Again, compare the traffic of the two locations by dividing Location A's foot traffic by Location B's foot traffic. Multiply that number by the percentage of sales from foot traffic. In this case, our cell phone repair shop would only see a 20% increase in sales from the higher foot traffic location, and there's a good chance that's just not worth it.
Here's a handy formula:
Location A Foot Traffic/Location B Foot Traffic = X
Walk-in Traffic Sales Percentage * X = Increase
Increase * 100 = Percent Increase
Here's how the math works for our clothing store:
10,000/5,000 = 2
90% * 2 = 1.8
1.8 * 100 = 180%
On the flip side, here's the math for the phone repair shop:
10,000/5,000 = 2
10% * 2 = 0.2
0.2 * 100 = 20%
Tools for measuring and calculating foot traffic
There's a bounty of options to measure foot traffic, though they aren't all created equal. Even Google Maps has consumer-facing features helping to track foot traffic in airports, malls, and shopping centers. Elsewhere, you might find businesses simply using security cameras or even something as simple as a physical clicker to keep track. These are workable tools, but they don't provide the data that businesses need to stay competitive in today's market.
Foot traffic is the who, what, when, and where of business. A comprehensive platform will measure all of that, turning a physical location into a digital ecosystem designed to drive sales through innovative experiences for both you and your customers. AR is at the forefront of these innovations, providing consumers with worthwhile digital experiences and providing businesses with insights into consumer behavior. However, not all businesses have risen to meet modern challenges in a shifting landscape, and that's led to some grim predictions.
Resonai's Vera platform is one of those options. The Mall Package, for example, not only measures foot traffic data, but also dwell time and store visitations, giving comprehensive information about what local demographics are interested in. It can also help with digital signage, AR guides to destinations, and immersive experiences for consumers, like scavenger hunts and interactive displays.
These metrics and features create an all-around better shopping experience for consumers and hassle-free insights for businesses and facility managers. Are you ready to learn more? Get in touch with Resonai today and set up a free demonstration.