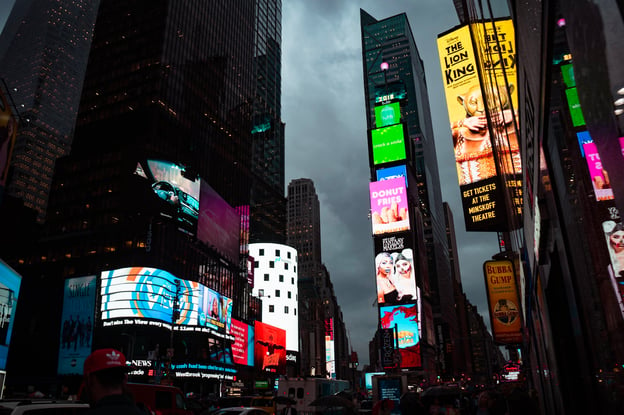 When it comes to digital signage, hardware is key. The wrong choice can lead to system crashes, display errors, and a host of other problems that can negatively impact your business. This is especially true for property owners and operators who are planning to deploy the signage across large spaces, as a misstep could end up costing your organization a fortune.
That's why it's vital you know what to look for before you make your purchase. This buyer's guide will outline the most important factors to consider when choosing digital signage hardware. From understanding the tech stack to what to look for in a vendor, we'll explore everything you need to find the best solution for your situation.
Jump to a section
Top considerations for digital signage hardware components
Three characteristics of a quality digital signage hardware vendor
The next generation of signage
Looking for more ways to elevate your retail experience with digital signage? Check out our article, Retail Digital Signage: The Ultimate Guide.
Top considerations for digital signage hardware components
The digital signage hardware stack has two main parts: the display screens and the media device. In the section below, we'll review what you need to keep in mind as you assess your options.
Understanding screen options
Tablets, monitors, commercial-grade TVs — there are numerous screen types to choose from. Here is what each screen category delivers:
Tablets: Best suited to situations where touch-screen functionality is essential, these small-screen devices are often deployed as a kiosk interface, elevator controls, and exhibit details.
Monitors: This is the value option. If you want to deliver content on a 17 to 32-inch display, monitors provide good quality at a low cost. Anything over those dimensions, and you'll need to graduate to a TV.
"Dumb" TVs: The most economical of the large screen displays, a dumb TV (or non-smart TV) is the term for a television that isn't internet-enabled. They can offer acceptable image resolution; just keep in mind you'll have to buy some additional tech if you want to give it "smart" capabilities.
Smart TVs: These are an excellent choice for those who don't want to mess with an additional media device, as they've got all the tech you need built-in. That said, make sure they're performant: Some smart TVs have slow OSs.
Commercial TVs: These TVs are designed to meet the numerous demands of heavy commercial usage. These screens are often better-constructed, durable, vibrant, and outdoor-ready. They are also capable of continuous operation — something that will rapidly degrade consumer TVs — and feature longer-term warranty coverage.
Back to top
Breaking down media players
If you've elected to go with a smart TV or a tablet for your displays, you won't need a media device. Otherwise, you'll have to choose between buying consumer, commercial, or industrial media players. Here's how those options stack up:
Consumer media players: Like consumer TVs, these media devices aren't built to handle the rigors of commercial usage. They are often made of less durable materials and can lack mounting options to keep them from being an eyesore. In addition, they may break down under continuous use. If you decide to use consumer media players to run your digital signage, make sure to cater your usage to these limitations.
Commercial media players: Resilient and high-performance, commercial media players are a must-have for many property owners and managers. They outperform their consumer counterparts regarding material quality, construction, and computing power.
Industrial media players: Industrial media players share many of the specs of commercial devices; they just are built to handle more severe environmental stressors. Industrial media players can operate even when exposed to intense vibration, dust, moisture, air pollution, oils, etc.
Back to top
Three characteristics of a quality digital signage hardware vendor
Now that we've covered the component options, let's review what to look for in a digital signage hardware vendor.
Support
One of the most important factors to consider when evaluating digital signage hardware vendors is the level of assistance they provide during the deployment — and the ongoing operation — of the equipment. The best hardware vendors offer comprehensive support, which means they can help you with everything from system setup to ongoing maintenance and troubleshooting. Look for vendors that provide 24/7 technical support and regular software updates and product enhancements. This type of support is essential if you want to avoid problems and keep your system running flawlessly for years.
Flexibility
While you may get most of your hardware from a single vendor, you'll likely end up using an assortment of screens to cover your signage needs. This being the case, you're going to want to work with a vendor whose solution is adaptable and can integrate with whatever screen equipment you have so you can create a seamless network.
D
urability
When making your purchase, also be sure to consider the durability of the hardware. It's essential that your equipment can stand up to round-the-clock use without breaking down or malfunctioning. Look for hardware built to last, with features like solid construction, corrosion-resistant materials, and long-lasting displays.
For a deep dive on the best digital signage software providers, read our recent article exploring the top four.
Back to top
The next generation of signage
While digital signage is a fundamental part of many commercial properties, augmented reality (AR) tech has opened up a whole new world of signage options. Now, commercial property owners and operators can use AR signage to deploy engaging displays with flexibility, ease, and analytical precision of digital advertising, allowing them to create new revenue streams and improve customer experience.
One of the leaders in the AR signage space, Resonai, has developed an AR platform designed for commercial property owners and managers: Vera. Vera uses computer vision technology to upgrade commercial spaces into intelligent digital environments, enhancing usability, performance, and profitability. Are you ready to learn more? Get in touch with Resonai today and set up a free demonstration.