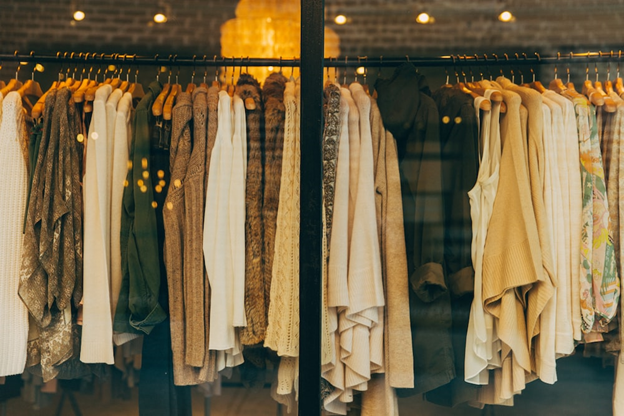 With more consumers turning to ecommerce, it's increasingly important to highlight the unique value that brick-and-mortar spaces can provide for apparel. The good news is that physical clothing stores have a lot to offer that online competitors can't.
Customers who shop for clothing in physical locations want to interact with their environment and browse a curated collection of products. With this growing customer desire for interactivity comes the need to carefully consider every square foot of a floor plan. In this article, we'll show you how to maximize the browsability (and profitability) of your clothing store layout, and deliver a shopping experience that customers will never be able to get from a device alone.
Jump to a section…
Why is finding the right clothing store layout important?
What retail floor plans work best for clothing store layouts?
5 must-have design elements to increase sales in your clothing store
Go the extra mile with your fitting rooms
Enhance customer immersion with interactive features
Why is finding the right clothing store layout important?
Because physical retail locations don't have infinite display space, it's important to maximize square footage by picking the clothing store layout that's best for your brand, and for your customers. By thoughtfully planning your retail space, you can create a memorable environment that shows your customers the value of shopping outside of the home. Achieving that ideal layout starts by picking the right overall archetype to fit your location, then adding in design elements to strengthen your branding and value proposition.
What retail floor plans work best for clothing store layouts?
There are five basic types retail store layout, but not all of them work well for a clothing store floor plan. For example, the grid layout, which is one of the most commonly used floor plans, is great for grocery stores, pharmacies, and other stores where shoppers are more task-oriented. However, this setup can feel overwhelming or impersonal for clothing shoppers.
Clothes shopping tends to be more of a leisure activity, where customers prioritize the pleasure and social aspects of the outing. The following three layouts promote a more intimate and enjoyable environment for customers.
Forced-Path
Forced-path layouts direct customers on a predetermined route through your retail space. The major benefit of this layout is that it provides ample opportunity for brand storytelling. By controlling the pace and direction of foot traffic through your store, you maximize exposure to all of your products, ensuring customers have the opportunity to interact with everything available for sale and make purchases they might not have planned on originally.
Boutique
A boutique-layout space (a particular variety of free form layouts) incorporates a variety of display elements to emphasize a more intimate shopping experience. Partially separated areas provide opportunities for customers to interact more deeply with specific groups of items. This layout is best for smaller stores that want to emphasize customer curiosity.
Racetrack
The racetrack layout directs customers along a single path that runs the length of your retail space. To ensure customers stay on course, it's best to clearly define the central loop with bold visual elements such as colored tiles or spotlighting. Like the forced-path layout, the loop helps you predict customer interaction with your products and increases opportunities for impulse purchases. The loop layout is best for larger spaces that have ample room to play with different types of displays.
Whatever clothing store layout you choose, it can be made into an even more powerful sales tool by integrating it with digital shopping experiences. Augmented reality and the metaverse present powerful new opportunities for brick-and-mortar retailers that can't be replicated online. Read our ebook, "A Guide to the New Digital Infrastructure for Malls & Retail Properties," to find out more.
5 must-have design elements to increase sales in your clothing store
Play with color
Getting bold with color is one of the easiest ways to attract attention and influence how customers interact with your retail space. Because color is such an essential component of fashion, it's important to be mindful of how you incorporate it into a physical store.
Use consistent color language to develop a visual identity that customers will learn to associate with your brand even after their shopping trip is over. Pay special attention to the psychology behind color choices, and how they can affect a customer's emotions.
Engage the senses
One of the biggest advantages a brick-and-mortar clothing store has over online competitors is the opportunity to create a memorable, multi-sensory experience. Touch is an essential factor when it comes to clothing, so present plenty of opportunities for tactile engagement with your products.
Imaginative lighting can draw attention to specific areas of the store. Ambient scents create a pleasant olfactory experience, which will boost a customer's positive associations with your brand. You can even promote a soothing environment with the addition of water features or living plants.
Incorporate rotating displays
Fashion changes with the season. Your displays should, too. Highlight seasonal offerings through the use of prominent island and endcap displays. It's best to group items often worn together to tell a compelling story that matches the occasion you're promoting. For example, if you're setting up a swimsuit display for summer, incorporate sandals, sun hats, and wraparound skirts. A regular rotation of stock promotes a fresh and dynamic feel to your space and helps build trust by showing customers you can anticipate their needs.
Go the extra mile with your fitting rooms
Fitting rooms are a vital component of any clothing store floor plan, and they should be located at the back of your space so customers have a chance to browse all your products before trying them. Fitting rooms are where much of the social aspect of clothes shopping happens, so make sure you have space for customers to interact, with comfortable seating and larger rooms to accommodate families and friend groups.
Use neutral, natural lighting and large mirrors to provide a flattering and accurate preview of what your products look like when worn. The fitting room is where most clothing shoppers will decide whether or not to buy your products, so the experience therein should be crafted just as carefully as the rest of your store.
Enhance customer immersion with interactive features
Invite customers to play with your space by recording and share the experience. Consider a themed photo booth where customers can snap pictures while wearing your products, or a replica living space where they can sit, relax and imagine themselves choosing an outfit at home.
Keep customers browsing by offering free snacks and drinks, or provide monogramming services so they can personalize their purchases. The longer a customer wants to stay, the more likely they'll be to buy, so build a clothing store layout that encourages them to indulge, escape, and explore.
Your work planning the perfect layout doesn't end with the physical space, but it can be easy to start optimizing your store's digital infrastructure. Working with Resonai means unlocking new opportunities for engagement, events, signage, advertising, and beyond in the spaces you already own, using devices your customers carry with them every day. Are you ready to learn more? Get in touch with Resonai today and set up a free demonstration.