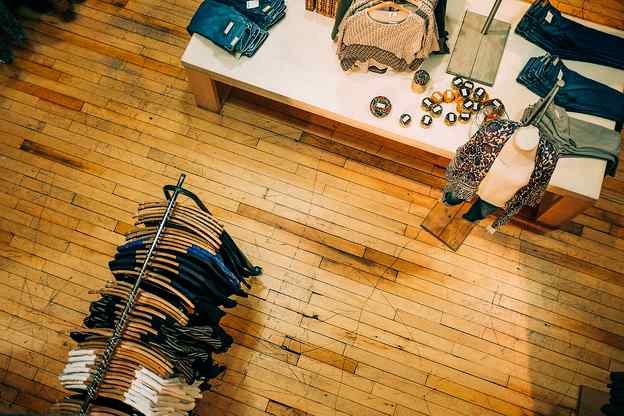 The layout of a retail store can have a massive impact on its bottom line. In fact, research has shown that how a store utilizes space directly influences customer loyalty and overall sales — making it an essential aspect of any effective retail strategy.
Though the arrangement of items for sale can vary wildly, certain types of store layouts have proven to be particularly effective at influencing shopper behavior. Review the options below to find the arrangement that best suits your business' goals.
Jump to a section…
What is a retail store layout?
Why are store layout types important?
What are the most effective types of store layouts?
How technology makes it easier to upgrade your space
Ready to take your store layout strategy to the next level? Check out our comprehensive article, "Store Layout: The Ultimate Guide."
What is a retail store layout?
A retail store layout (or store design) is how a consumer brick and mortar business utilizes its space to create a desired effect on the customer, usually to inspire them to make a purchase. A store's layout includes two primary components: the store design and the customer flow.
The store design is everything about how the space is conceived, constructed, decorated, and more. Retailers can improve the store design by making adjustments to the floorplan, furniture, lighting, signage, etc.
The customer flow is how visitors to a store move through the space. Retailers must have a detailed customer flow model to effectively build and optimize a store layout. They also must track how consumers behave within their shop — and test alterations to the store design to see if they impact outcomes.
Why are store layout types important?
In terms of influence on customer behavior, store layout is among the most powerful tools in the retailer's toolkit. If used effectively, it will maximize space usage, enhance the customer experience, and increase the likelihood that a consumer buys.
Maximize usage of space: Those square feet don't come cheap. A good store layout will ensure that every inch creates value for the customer and delivers a return for the business.
Enhance the customer experience: The best brick-and-mortar retailers are obsessed with their stores' ambiance to put their customers at ease.
Increase consumption: From the floorplan to the light fixtures, each element of the store's design can either push a customer towards a purchase or away from it.
Although improving a store's layout has traditionally been about making physical changes to the design, recent advances in augmented reality (AR) are opening up a new world of possibilities for retailers.
Read our latest ebook, A Guide to the New Digital Infrastructure for Malls & Retail Properties, to learn about how you can leverage this tech to improve your store's performance:

What are the most effective types of store layouts?
The grid layout
Perhaps the most popular of the types of retail store layout, the grid arranges the floor space into long, rectangular aisles that customers can navigate between as they see fit. The grid is one of the most popular layouts, used by many supermarkets, pharmacies, and retail stores.
Advantages:
Great for larger retailers
Excellent use of space
High consumer familiarity
Provides good freedom of movement
Finding what you want can be easy if well-organized
Disadvantages:
Not the most exciting layout
Can make consumers feel overwhelmed by options
Can feel claustrophobic
Needs intelligent product groupings to keep from frustrating customers
The f
ree-flow layout
The free-flow layout doesn't direct traffic through the explicit organization of the space. Instead, it uses creative aesthetic and design choices to engage customers — and allows them to move around the shop however they want. But this open-endedness comes with a price, as it's difficult for retailers with large spaces and significant product volumes to use the free-flow layout without creating a chaotic customer experience. For this reason, the layout is most often seen in smaller, boutique stores.
Advantages:
Great for smaller businesses
Can be exciting and engaging for the customer if well-designed
Provides total freedom of movement
Gives retailers enormous creative control and flexibility
Can be used effectively with other layouts, like the loop
Disadvantages:
Lack of apparent structure can confuse some consumers
Rarely the most efficient use of space
Challenging to design well
The s
traight layout
The straight (or spine) layout uses one primary aisle to direct traffic through the length of the store, usually taking them from the front to the back. The straight layout is a favorite of small department stores, grocery stores, and markets.
Advantages:
Easy to implement
Provides clear direction while still allowing for freedom of movement
Increases the likelihood that consumers will make it to the back of the store
Supports featured items/sections
Good choice for newer retailers or those with resource constraints
Disadvantages:
Doesn't provide the most exciting consumer experience
Can cause customers to miss some items if they stay on the central aisle
The loop layout
The loop (or racetrack) layout arranged the floorplan into a large loop that circles the entire retail space. One of the most well-known and successful implementations of this floor plan is by IKEA, whose design guides on a circular path through the whole store as you shop.
Advantages:
Excellent use of space
Supports featured items/sections
Can allow the retailer to create a compelling brand story/experience for the customer
Good for larger retailers or those with ample floorspace
Can increase customer dwell time
Disadvantages:
Can frustrate in-and-out consumers
Not a good fit for retailers looking for higher traffic turnover to drive sales
Directed path limits freedom of movement for shoppers
The angular
layout
Angular pattern is similar to the free-flow layout in that it does not impose a path through the store on the shopper. Instead, it tries to encourage customers to move through the space using rounded (angled), stand-alone tables, fixtures, displays, etc. The angular layout, like the free flow layout, is most often used by small, high-end shops.
Advantages:
Provides good freedom of movement
Creates a dynamic visual experience for the customers
Can effectively direct shopper interest to particular items
Great for luxury and high-end retailers
Disadvantages:
Is rarely the most efficient use of space
Is challenging to design well
Not suitable for shops with a large variety of products
How technology makes it easier to upgrade your space
As we mentioned above, optimizing a store's layout is no longer just about moving furniture and painting walls. While those things will always be necessary, the most innovative brick-and-mortar retailers these days are also leveraging AR to upgrade the in-store experience. Using this tech, retailers are engaging their customers with interactive games, hybrid physical/virtual exhibits, and immersive product displays.
Ready to learn more? Read our new guide to see with this approach could do for your business: