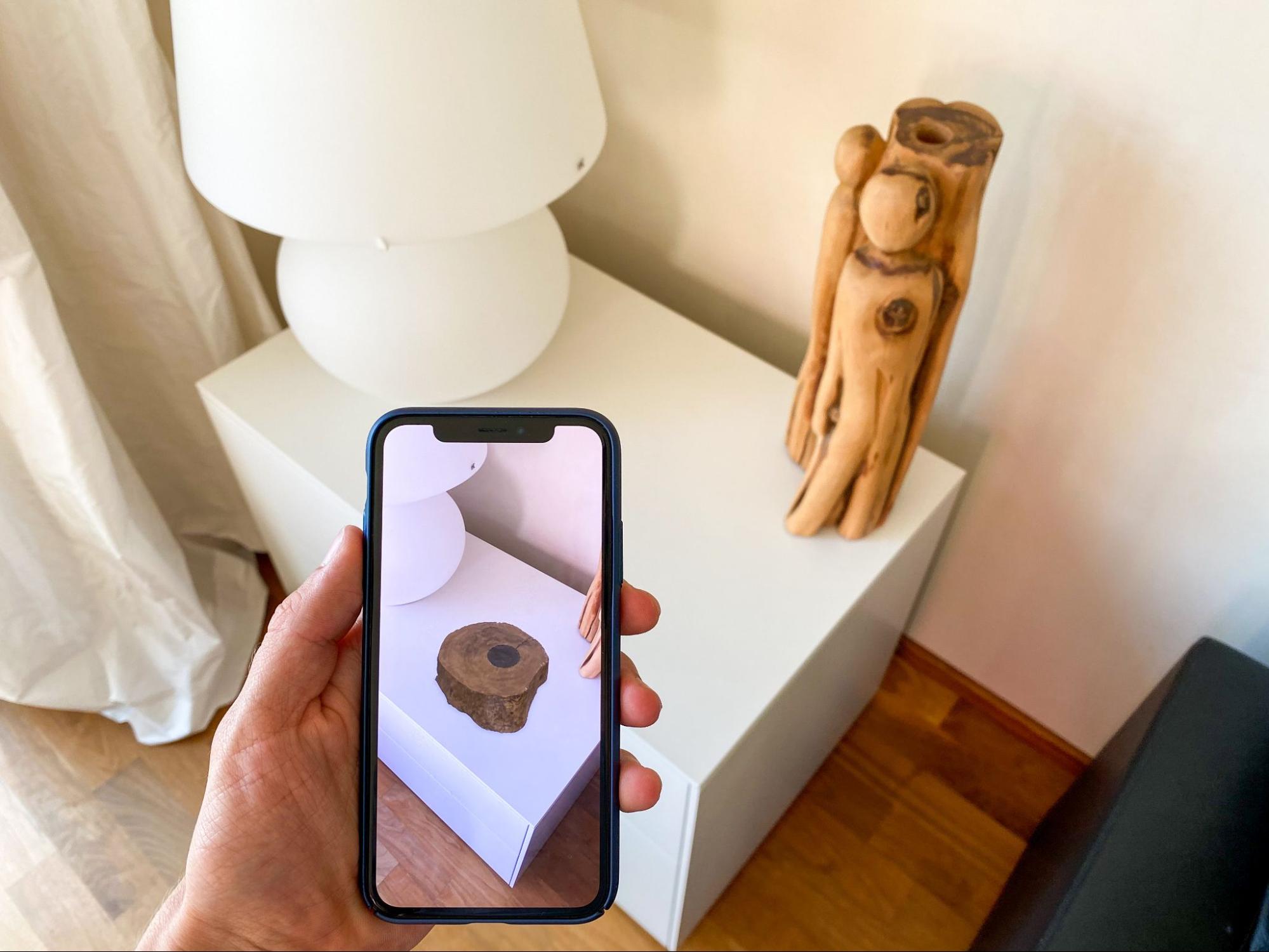 Virtually everyone who's ever owned a home has realized they chose the wrong color for the new paint, bought a couch that was a little too big, or seriously misjudged how much tile they'd need. All of these common home improvement disasters could have been prevented by taking advantage of augmented reality.
Augmented reality home decor apps make improvements easier, more efficient, and far more fun. Whether it's virtually painting the kitchen or getting exact measurements of the bedroom, AR removes the guesswork that so often leads to costly frustration. Property owners, designers, and contractors can collaborate in AR seamlessly because the technology eliminates logistical friction and enables faster, more specific communication. Read on to learn more about how augmented reality home decor apps are powering modern interior design.
Interested in augmented reality's growing role in commercial property? Check out our guide to augmented reality in real estate.
Jump to a section...
Augmented Reality Home Decor Innovations
Visualize renovations without lifting a hammer
Augmented Reality Home Decor Innovations
Not too long ago, digitally envisioning changes to a home involved advanced software or at least skill with a photo editing app. Now, it's as easy as using a mobile phone or tablet. There's an augmented reality home decor app for virtually every kind of home improvement or renovation. Augmented reality home decor isn't just valuable for homeowners, however. Interior designers, home developers, and insurance adjusters can all benefit from making AR a regular part of their process. Here are just some of the ways AR is being leveraged to maximum effect for home design.
Choose paint colors
One of the easiest ways to refresh a space is to give it a new coat of paint, but successfully envisioning how different colors might look can push imagination to its limits. Many paint companies have their own AR app to let users test colors without having to extrapolate from fan decks or color samples. Augmented reality home decor apps like Sherwin-Williams' Color Snap let users point their phones at a wall and test different paint colors in real-time. If a client wants to replicate the color of the hybrid roses in their garden, a designer can use AR to pull a sample color from a photo and find the closest match in a paint line.
Measure with ease
Measuring an empty room isn't mathematically tricky, so long as the walls are straight and even. But add in furniture, halls, and doors, and it becomes more complex, especially when trying to do it alone. AR makes measurement easy by tapping into a smartphone's camera. Users simply need to point their mobile device at what they need to measure, whether that's a wall, window, door, or settee. AR measurement apps can calculate total room size, estimate the necessary size of a shipping container, or create floor plans based on photos. Augmented reality home decor apps like MagicPlan cut contractors' planning time from weeks down to minutes by quickly collecting all the measurements they need to get started on a job.
Try, then buy new furniture
Augmented reality home decor apps fix the long-standing problems associated with furniture shopping. Showrooms can only display a fraction of what's available, and shoppers have to rely on 2D pictures and measurements to estimate how well a piece will fit in their homes, both aesthetically and physically. IKEA Place lets users browse collections, virtually place selections in their homes, then buy with a few taps. This kind of functionality also creates a significant efficiency for interior designers, who can use AR to show clients exactly how different assortments of lighting and furniture will look in their space.
Visualize renovations without lifting a hammer
Renovations can breathe new life into a property but can also lead to unexpected outcomes. Rendering rooms or entire houses in AR lets designers, contractors, or homeowners make changes to a home and look at them from all angles. Using AR to visualize renovations saves time, money, and frustration. Clients often have difficulty verbalizing what they want, but with an app like Livehome3d, they can communicate their exact vision to a designer or contractor. The reverse is also true. Designers can whip up several options for clients who only have vague ideas of what they want. Interactive AR models also let all stakeholders interact asynchronously with the design, write notes on it, move furniture in and out, or change colors until they reach the desired outcome.
Fast-track insurance claims
Homeowners want to repair damage caused by water, weather, or other mishaps quickly, but to do so they must first provide appropriate documentation to their insurance providers. Apps like PLNAR greatly accelerate the claim process by letting property owners create precise 3D models of damaged locations, complete with measurements, directly from their phones. Adjusters can work from interactive AR renders rather than having to schedule an appointment to assess the damage. Every claim becomes a customized presentation of important information, saving time and money usually spent chasing down specifics.
Rethink the landscape
Everything AR can do to help visualize inside a home can be done outside it, too. Augmented reality makes it possible to see what fully-grown trees and shrubs would look like in place — a crucial consideration when making landscaping plans. AR landscaping apps can use a device's location to recommend plants that thrive in that particular area or display how the results will look at different times of day. Augmented reality home decor apps like iScape can facilitate hardscape design as well, allowing homeowners or contractors to swap out material choices or determine what size fire pit would work best in the space allotted.
Augmented reality has seamlessly integrated itself into many aspects of daily life. Retailers, healthcare facilities, construction companies, real estate agencies, and more are all using AR technology to create exciting experiences for consumers while at the same time creating operational efficiencies for themselves. Vera is a platform that can help your business take advantage of everything augmented reality has to offer.