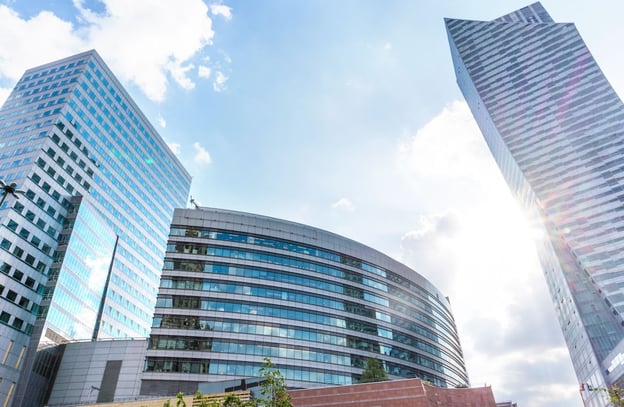 Closing a deal in the world of commercial real estate has historically been a lengthy and cumbersome process for realtors. Prospective buyers and tenants rightfully go to great lengths to ensure that their investment is smart and that it meets their needs, and realtors must nurture their decision making every step of the way. Today, augmented reality real estate apps play a crucial rule in streamlining that process, making it easier for both realtors and their clients. Instead of fully manual processes and weeks, months, or years of in-person interactions, AR tools are helping realtors find bigger and faster successes.
In this article, we'll explore the synergy between the real estate industry and augmented reality technology and look at five examples of augmented reality real estate apps available today.
Jump to a section
What Can Augmented Reality Do For Commercial Realtors?
5 Examples of Augmented Reality Real Estate Apps
How Vera Puts AR To Work For Realtors
What Can Augmented Reality Do For Commercial Realtors?
Augmented reality uses artificial intelligence and advanced imaging technology to merge physical spaces and digital experiences. People can interact with built environments in entirely new ways using AR technology, challenging the limits of real-world experience we once knew. As the real estate industry grows to rely on digital tools and online platforms to increase efficiency and profitability, AR is becoming par for the course.
From construction to interior design and commercial real estate to facilities management, there are countless ways augmented reality real estate apps can lead to success in the industry. Here are a few popular applications of AR that specifically supports the needs of realtors:
Virtual showings
Virtual property viewings have become the norm since the global COVID-19 pandemic. But it's easy to offer intimate showings to remote and distributed buyers around the world (or across town) with the support of AR tools. Immersive walkthroughs that leverage sophisticated digital twins give people the experience of being in a space without ever leaving their desk (or their kitchen table).
Design staging
An empty property is like a blank canvas; it can either inspire incredible creativity or send the artist into a state of shock. AR helps apply paint to that canvas by allowing potential buyers and tenants to envision how they might use a space. Whether it's testing furniture layouts or experimenting with lighting fixtures, AR tools help facilitate critical design staging.
Architectural mockups
It's not always convenient or profitable for realtors to have to wait until a property is fully open to the public before beginning the sales process. Whether a new building is under construction or internal renovations are underway, augmented reality can help both realtors and buyers to visualize built spaces.
Sales support
AR tools can support commercial realtors in collecting all kinds of details they need to make a sale. From measuring exact dimensions in real time to creating floor plans or turning those floor plans into virtual experiences, augmented reality real estate apps make all the difference when it comes to closing a deal.
Back to top
5 Examples of Augmented Reality Real Estate Apps
These are five augmented reality apps that support the needs of commercial realtors and their clients:
#1: Vera
Vera is an enterprise computer vision platform that transforms buildings into intelligent environments. Its intelligent digital twin functionality allows realtors to digitally reconstruct buildings from the inside out through highly accurate three-dimensional visualizations. With hardware-free positional tracking to power applications and services, building-wide device, equipment, and operations management capabilities, and real-time data analytics powered by AI and ML technology, Vera is a powerful one-stop shop for commercial realtors, building operators, and owners.
#2: RealAR
The RealAR app transforms two-dimensional floor plans and three-dimensional models into full-blown life-size walkthroughs. This is particularly helpful for realtors managing properties before they are fully finished, since the AR technology enables intimate digital experiences of spaces that are still under construction. It's also useful during COVID-19, when physical viewings are rarer and both realtors and potential owners or tenants might have a harder time traveling to view properties in person.
#3: MagicPlan
What if the property in question doesn't have a completed floor plan available? That's where apps like MagicPlan come in. This augmented reality real estate app is focused on generating floor plans from photos. When a realtor uses a smartphone or tablet camera to capture images of the property, including anchor points like walls, floors, ceilings, and doors, the app creates a complete floor plan. Realtors can use those floor plans to give buyers and tenants a better sense of how they might use the space after moving in and ensure it meets their needs.
#4: Curate by Sotheby's
Helping buyers imagine how they might make use of a new space is one of the most important parts of a realtor's job. It can be hard to conjure up an image of what a fully designed retail or commercial space will look like while staring at an empty room and blank walls. That's where augmented reality real estate apps like Curate come in. Sotheby's International Realty created the app to help buyers visualize their spaces. The virtual staging experience can also be useful post-purchase; it allows buyers to tackle interior design decisions by trying out color schemes, lighting palettes, and furnishings in an AR environment before committing in their physical space.
#5: AirMeasure
AirMeasure isn't geared directly toward realtors, but it's a good example of the general ways that AR tools can support the real estate industry. When realtors show a new property, measuring apps make it easy to answer questions about dimensions. AirMeasure offers multiple options to get the most accurate read of any type of space; pointing the camera at defined objects shows their dimensions automatically, moving the camera through space measures length the way a tape measure would, and surface-specific measurements lock endpoints to gauge the distance across a wall or floor, for example.
Back to top
How Vera Puts AR To Work For Realtors
In the digital age, real estate is an industry that must be able to connect both physically and virtually. Transforming physical spaces into interactive virtual environments is what Vera does best, empowering realtors to minimize costs and maximize efficiency at the same time.
Ready to see how Vera can help grow your real estate operations? Get a free demo today.