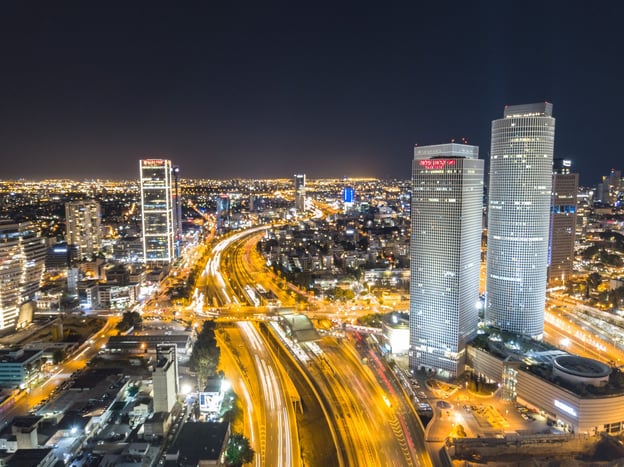 Anyone researching new businesses will quickly realize that Israel is the startup capital of the world. The country is already home to over 6,000 active startups, 60 of the world's unicorns, and shows little sign of slowing down. With millions of investment dollars entering the space, cities from Jerusalem to Tel Aviv can drive incredible innovations across multiple industries. So if you're looking for investment opportunities or even employment in a vibrant tech field, these top startups in Israel deserve your attention.
Jump to a section…
Our favorite tech startups in Israel
We'd be remiss if we didn't mention Resonai in a blog discussing the top Israeli startups! Resonai is the creator of Vera, a comprehensive smart building platform that transforms buildings into digital environments. Using a combination of proprietary spatial computing and intelligent digital twin technology, Vera converts the entire layout of physical buildings into digital assets, complete with the infrastructure to measure, analyze, and enhance visitor engagement.
These digital twins make it possible to turn physical structures into smart buildings that manage how surroundings are experienced, maintained, and monetized. For example, retail businesses can roll out indoor navigation to help customers find the right products. Facilities managers might pull up AR-powered contextual information about meeting rooms or services. Construction teams could deploy remote walkthroughs of in-progress facilities for stakeholders. Even hospitals can benefit, providing tools to streamline operations and help patients reach appointments on time. And that's before we get into our experience in building-scale Internet of Things advancements that IoT startups of Israel have yet to tap into.
Resonai is growing rapidly to bring about a vision where AR technology changes lives in meaningful ways. If you're in Tel Aviv and would like to be part of the team, visit our jobs page for available positions!
Many organizations use AI to automate and optimize their activities, but even these processes are imperfect. So what happens when AI helps improve AI? Deci believes it has an answer with an end-to-end deep learning development platform. In short, Deci uses AutoNAC (Automated Neural Architecture Construction) to analyze and optimize machine learning models. This process lets teams shorten development cycles, reduce computing costs, and minimize production-related bottlenecks within the AI lifecycle.
Named one of the top Israeli startups in 2021, Deci was an early participant of Intel's Ignite accelerator program and later joined with the manufacturer to optimize AI models that support Intel hardware. That's an impressive partnership for a company established just two years earlier, even among a field of exceptional Israel startups.
Cybersecurity is a top priority in a rapidly developing tech sector, so it's no surprise to see Armo among the latest startups in israel. Armo is the team behind Kubescape, an open-source security solution intended for developers. This open-source design allows Kubescape to be fully customizable and compatible with existing dev-ops tools, including AWS, IBM Cloud, and many others.
After Armo's founding in 2018, Kubescape quickly became a vital operating system and container orchestration solution for cloud-native applications. And Armo is just getting started — its ultimate goal is to expand the platform into an end-to-end cybersecurity platform that aligns with any tech stack out-of-the-box. If successful, this would give developers an alternative to amalgamating different open source tools or purchasing inflexible proprietary products. And considering Armo was also selected for Intel Ignite alongside some of the top Israeli startups of 2020, it has a promising chance to achieve this goal.
GuardKnox is another example of cybersecurity startups from Israel but with a unique twist — it wants to defend your car. Established in 2016 by Israeli Air Force veterans, GuardKnox borrows measures that protect aircraft from remote hacking and applies them to online-connected land vehicles. Its goal is to produce technologies for automotive companies that are service-oriented, customizable, and secure-by-design.
GuardKnox's founders were recently featured on outlets like CNN and Express, where they discussed the growing security risks of electric vehicles. Even when driving systems cannot be remotely controlled, it's possible to track a vehicle's location, activate the door locks, or control music volume. If GuardKnox can make cars as safe as modern aircraft, driving should be far safer.
Sayollo started as an in-game advertising company, but it quickly found another niche: in-game shopping. This company — recognized as one of 2022's Israeli tech startups to watch — is responsible for gComm, a shopping platform where mobile game players can buy products directly from their apps. For example, if a player exploring a virtual city sees a billboard advertisement, they can interact with it to purchase items that will ship to a physical address.
Mobile game publishers and DTC brands have quickly embraced the concept. Over twenty DTC retailers currently sell their products on gComm, including apparel, cosmetics, home decor, healthcare services, and other industries. Sayollo also partnered with over a dozen mobile game publishers, including Flying Squirrel Games and T-Bull Games. As the metaverse concept takes hold, Sayollo is quickly finding itself a leader in a growing field.
It's an exciting time to be a tech professional in Israel. Whether you're digitizing physical buildings or securing your vehicle from hackers, the entire country is a hotbed of innovation that will ultimately benefit the entire world. Are you ready to learn more? Take a look at our jobs page or get in touch with Resonai for a free demonstration.