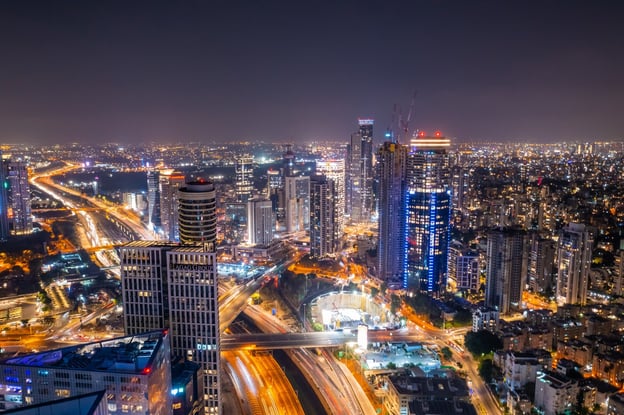 In 2022, Israel is synonymous with innovation. Decades of research, industrial expansion, and educational investment helped create "Silicon Wadi," a global center for advanced technology that spans the Mediterranean Sea coast. Now countless startups are breaking new ground while the biggest tech companies in Israel invest in grand technological innovations. Anyone looking to work in this vibrant field — or invest in it — should keep these top Israeli tech companies in mind.
Jump to a section…
5 Israeli tech companies at the cutting edge of innovation
5
Israeli tech companies at the cutting edge of innovation
Startups
A startup is a business that aims to develop and validate a particular product or business model. Unlike traditional small businesses, startups are designed to grow exponentially as they find new markets, expand their teams, and discover new use cases for their products.
Even before COVID-19, the modern workplace was becoming remote. Unfortunately, distributed workplaces have several cybersecurity challenges that cannot be resolved on-site. Talon aims to simplify the problem with a new kind of web browser — one that protects any unmanaged endpoint.
By treating browsers as the first line of defense, Talon aims to streamline security practices without slowing down productivity. In addition, it boasts enterprise-grade security for any hybrid workplace with no operational overhead or administrative privileges required. These bold claims are certainly gaining attention from investors who have contributed $43 million since Talon was established in 2021.
Augmented reality (AR) has many applications in 2022, but the most promising is bridging the gap between physical and virtual worlds. Resonai is at the forefront of this field thanks to Vera, a comprehensive platform that transforms buildings into digital environments. Vera uses a combination of proprietary spatial computing and intelligent digital twin technology to convert real-world layouts and objects into digital assets, complete with infrastructure to measure, analyze, and enhance visitor engagement.
Digital twins make it far easier to manage how a given space is experienced, maintained, and monetized. For example, retailers can use indoor navigation features to guide customers to specific products or categories. Facility managers can implement AR-powered contextual details, such as meeting room details or maintenance notes. Medical facilities can streamline operations to maximize the time health care professionals spend with individual patients. And this is just the start — each new application for Vera presents exciting and practical new uses.
Resonai is growing rapidly to bring about a vision of AR technology changing lives in meaningful ways. If you're based in Tel Aviv and would like to be part of the team, visit our jobs page for available positions!
Growth stage companies
Growth companies have established their core business model and use it as a foundation to expand. These companies may continue to innovate or refine their product, but do so within a rapid growth framework.
Tech research and development doesn't just allow for better technologies — it can improve our quality of life. Few Israeli tech companies embrace this principle like Nanox, which produces medical imaging technology. Along with designing state-of-the-art hardware, Nanox adds innovations like AI-powered disease detection and cloud management tools. With these capabilities, medical imaging technology can be far more effective and convenient for technicians to operate, saving more lives in the long run.
Now that over 78% of the global population uses a smartphone, app marketing and monetization is a sprawling economy in its own right. Unfortunately, navigating this space to reach customers remains a challenge. The Tel Aviv-based ironSource realized it could help by developing new technologies that support app monetization and distribution, letting app developers scale their businesses more efficiently.
Today, ironSource is one of the world's leading app business platforms. Fast Company named it one of Israel's most innovative companies in 2016, and it continues to push boundaries across mobile economies. In the first half of 2022 alone, it released new features such as dynamically-segmenting audiences, real-time app monetization data, marketability-focused app testing, and much more. And that's before we consider multiple high-profile acquisitions that continue to expand ironSource's capabilities — making it one of the largest Israeli tech companies.
Mature enterprises
Mature tech companies represent a degree of stability compared to startups. These companies typically grow through acquisitions or new products rather than updating their core business model.
Intel has become one of the most recognizable names in the tech industry by prioritizing innovation, and Israel is a big part of its strategy. Since the 1970s, the corporate giant has run an IDC chip development center in Haifa that consistently produces some of the world's most advanced processors. Now in the wake of Israel's tech boom, Intel is heavily investing in the region and its Intel Israel subsidiary.
For a start, Intel is spending $10 billion to expand a Kiryat Gat factory to improve its 10-nanometer tech manufacturing capabilities. Next, the company is increasing investments in research and development, particularly in AI research. Intel is also investing in Israeli tech innovators by inviting local companies like Deci to its Ignite accelerator program. Thanks to these developments, Intel has become one of the largest tech companies in Israel, boasting 14,000 employees across its businesses and subsidiaries.
Join the new wave of tech
In Israel, tech companies like Resonai, GuardKnox, and even Intel are in good company. Between our 6,000 startups, 60 unicorns, and ongoing investments, this community is among the most innovative in the world. In time, the biggest Israeli tech companies will develop advancements that improve lives worldwide — but only if they can keep finding the right tech professionals to turn ideas into reality. Are you ready to learn more? Take a look at our jobs page or get in touch with Resonai for a free demonstration.