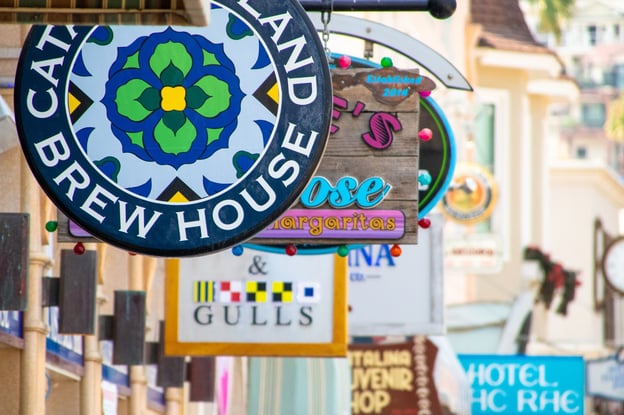 Retail signage can capture attention and motivate customer behavior, but consumers are indifferent when signage fails to balance information, color, and typography elegantly. Businesses need to do everything in their power to apply the lessons that have been passed down since retail signage emerged, dating back to ancient Egyptian, Roman, and Grecian society. Here are the best retail signage ideas that drive better ROI and improve the customer experience by using color theory, appealing to underserved demographics, and incorporating technology.
Jump to a section…
The best retail signage ideas incorporate color theory
Signage enhances your layout and drives business
Invest in signage that advertises accessibility
Garner more engagement with digital signage
Augmented reality is highly personalizable
Want to learn more about how your approach to retail signage can improve foot traffic, increase revenue, and more? Be sure to check out Retail Store Signs: The Ultimate Guide. And for even more in-depth information, download a free copy of our ebook, A Guide to the New Digital Infrastructure for Malls & Retail Properties:
The best retail signage ideas incorporate color theory
Researchers have gone to great lengths to learn how color impacts our emotions and behaviors, finding that blue relaxes us, red energizes us, and grey makes us sad. These associations are why certain colors are more common than others in brand logos. Best Buy, Walmart, Lowes — these retailers adopt blue color schemes because of the positive feelings the color instills. Choosing the right color scheme can also improve brand recognition by 80%, a critical component of creating a sustainable company. Run split tests using various color schemes to uncover what drives sales, as colors will have different effects across demographics, then apply your findings to your signage.
Signage enhances your layout and drives business
Target has been immensely successful using its layout to motivate impulse purchases, causing "Target Syndrome" to become something of a running joke on the internet. Customers enter the store to purchase a specific item but leave with a bundle of afterthought goods, increasing the retailer's attach rate and contributing to Target's impressive YoY comp growth. The retailer's store layout strategy is a revenue driver in large part because it incorporates fresh in store signage ideas, which reduce friction and keep customers engaged. Target clearly advertises where product departments are with signs that can be seen from nearly anywhere in the store, eliminating the fatigue customers may feel if they get lost. Retailers should take note of how these signs work, as they clearly delineate departments with hanging signs, advertise discounts, and direct consumers through lanes where they're likely to find inexpensive, interesting products. Use technology to determine high-traffic areas within your building, then experiment with different signage in those locations, noting the effect it has on consumer behavior.
Invest in signage that advertises accessibility
Accessibility is a concern for millions of under-served people with disabilities, 65% of whom feel that a lack of signposted accessibility information hinders their shopping experience, and 43% of whom have reported abandoning a shopping task due to insufficient accessibility information. The global purchasing power of people with disabilities is approximately £274 billion annually, according to the UK's Business Disability Forum, which means that retailers are letting a significant portion of possible revenue escape simply through neglect.
Retailers can rectify the mistake by creating compelling, informative signage that better serves underrepresented consumers. Not only is there a financial benefit, but doing so could significantly positively affect brand reputation. These signs should give concise explanations about how usable a product is for people with disabilities, and how accessible a facility is. Don't forget to consider audio-visual disabilities that may affect how legible the signage is.
Garner more engagement with digital signage
Retail has evolved, and while there's still something to be said about traditional signage's broad effectiveness — 76% of consumers will enter a store simply because of compelling signs — technology is reshaping the way that consumers interact with advertising. Digital signage is emerging as one of the premier retail store signs ideas for informing customers and allowing them to interact with your brand in an immersive way. The tactic is impressing both business owners and consumers: 74% of retailers believe that digital signage enhances the customer experience, and 80% of under-30 consumers say they're more likely to buy at brick-and-mortar stores than online if the store offers interactable digital displays.
Digital signage isn't something that will happen; retailers and brands are using digital signage in stores and on billboards already. British Airways has used digital signage in a particularly interesting way, creating a sign that shows a boy pointing at real-world jets as they take off. The strategy is effective, with Rebecca Minkoff CEO Uri Minkoff stating that the technology can increase sales by 30%.
Augmented reality is highly personalizable
Digital signage isn't just limited to in-store displays. The most innovative retail sale sign ideas are currently being created in the augmented reality space, giving consumers personalized experiences accessible through their smartphones. To be clear: consumers want personalization.
According to McKinsey, 71% of consumers expect personalized shopping experiences, and companies that provide them earn up to 40% more revenue. Augmented reality tech can provide just that, tailoring product recommendations, signage, and experiences to individuals. Generation Z is steadily becoming a demographic of micro-markets, which retailers won't be able to serve without the help of technology.
Resonai provides the technology that drives augmented reality shopping experiences. Our Vera platform turns brick-and-mortar stores into virtual ecosystems that provide unique experiences and offers for customers, helping you increase ROI and drive sales lift in exciting new ways. Are you ready to learn more? Get in touch with Resonai today and set up a free demonstration.