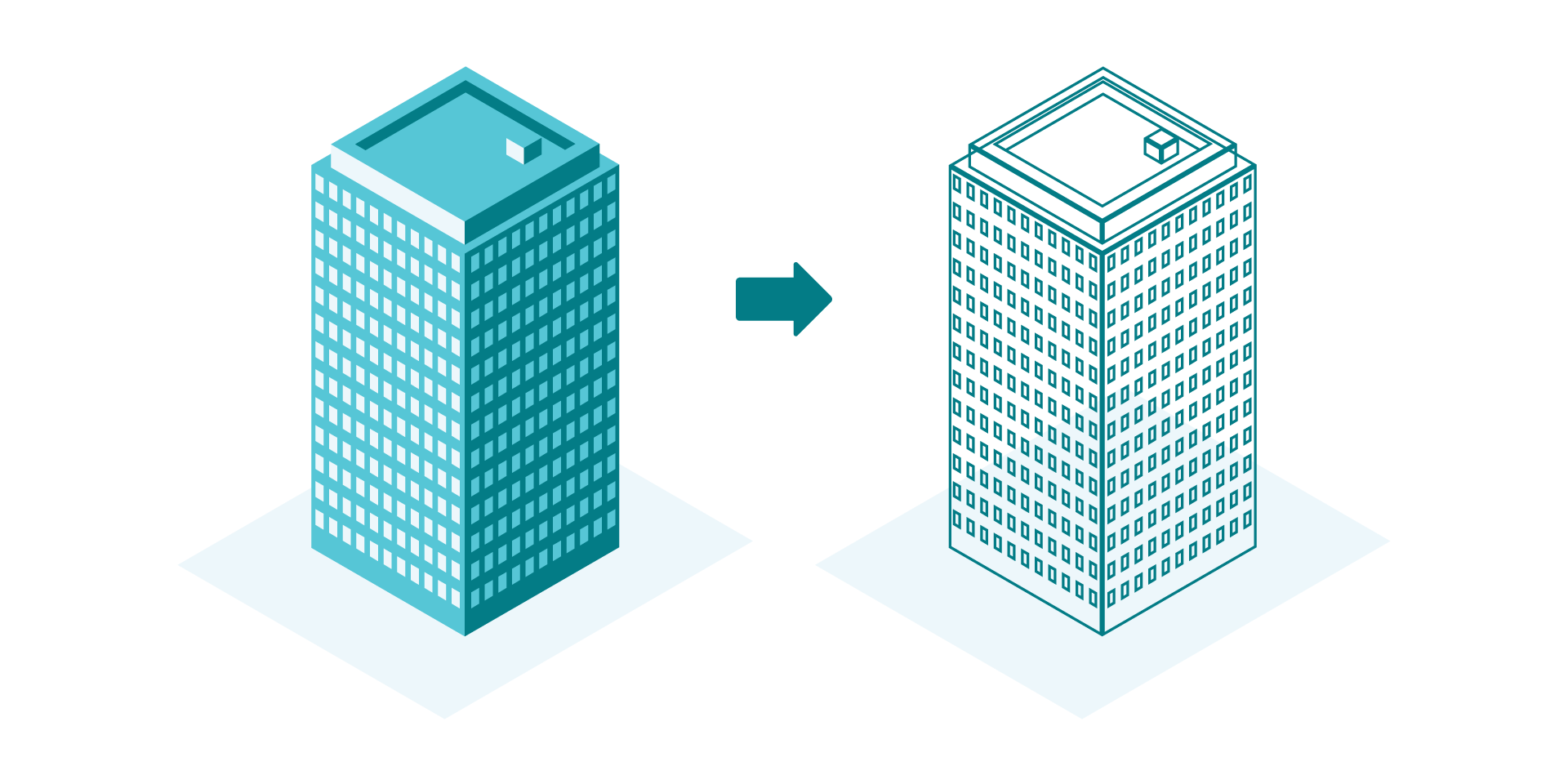 Digital twins once acted as extensions of IoT technology, but in recent years they've become increasingly essential to almost every aspect of property management. According to one study, digital twins are expected to become a standard feature of IoT applications by 2025, with 88% of platforms containing at least some functionality. For enterprises investing in smart buildings, now is the perfect time to integrate digital twins into your commercial space. Learning how to create a digital twin is the first step.
While each smart building is different, this article will present a step-by-step process for turning any physical environment into a digital twin.
Ready to dig deeper and learn more about digital twins? Check out "Digital Twins: The Ultimate Guide"
Jump to a section
Defining your purpose and scope
Digitally capturing the physical environment
Bringing functionality to your digital twin
How to create a digital twin
The first thing to remember when building digital twins is they aren't just computer models of a physical space. They are directly linked to their associated buildings, transmitting data back and forth in real-time. Digital twin infrastructure can even manage integrated building systems, such as telecommunications networks, content storage platforms, and other enterprise applications. In short, digital twins are extensions of an environment, not static replicas. Designers who keep this guiding principle in mind will forge connections more effectively.
Defining your purpose and scope
As with any project, it's essential to understand your digital twin's intended purpose and scope. For example, a hospital might want an indoor navigation system that helps patients reach treatment areas quickly and safely. Retailers may wish to automate inventory management by monitoring and updating virtual shelves in real-time. These considerations will inform the digital twin's design and help you select the right resources to support it.
It's also helpful to address the size and scope of your digital twin. Will you be representing an entire facility or just a few rooms? Smaller spaces will be easier to digitize and refine, while recreating a whole building may require the assistance of specialized partners.
When defining your scope, it can be helpful to create a list of features. Use the following questions as a starting point:
What building functions will the digital twin monitor?
Will the digital twin allow for remote access, or will users need to be on-site?
Who will operate the digital twin — the general public or employees?
Choosing your AR tools
Once you know what your digital twin will accomplish, you can choose the components that will facilitate it. While you search, keep the following points in mind:
Information: All digital twins transmit data to and from their physical counterparts. The designer's task at this point is to choose the most suitable information type. Binary data, such as those powering a lighting system, will be simple and straightforward. Tracking equipment will be far more complex and typically requires specialized hardware.
Equipment: Digital twins need components that let them achieve their function. This usually includes sensors that can match your intended purpose — for example, location trackers at a hospital are far more useful than seismic monitors from a gas refinery. Designers must also account for physical infrastructure during this stage, such as local cables or a wireless network.
Enabling technology: Finally, you'll need software that powers the digital twin. On an architectural scale, solutions that include IoT-based device management and 3D visualizations tend to be the most useful.
Did you know that the Vera computer vision platform allows facility management professionals to implement robust location-based services without the need for external hardware or sensors? Contact us to learn more.
Digitally capturing the physical environment
Of course, the most visually impressive part of any digital twin is simulating a physical environment in three dimensions. Whatever your intent, this requires a digitization process that records the characteristics of a space and generates a 1:1 model. In most cases, someone must move specialized camera equipment from room to room, taking pictures of the area from multiple perspectives. For a large facility, this step can be time-consuming, but every detail you include contributes to a more accurate digital twin.
Once the photography is complete, designers will have a series of images they can assemble into a 3D digital twin building model. At an architectural scale, this is best accomplished with machine learning systems that compile information and automatically note distances between walls, fixtures, and objects. Unfortunately, this is still just a building model — one more step is required before it becomes a full-fledged digital twin.
Bringing functionality to your digital twin
With the completed digital twin architecture on hand, designers must add details and functionality to ensure it operates as intended. These features will vary depending on your intended purpose but might include the following:
Visual elements: Your initial building model will look much like environments powered by a video game engine — impressive, but still not rendered. Designers may need to include or optimize visual components such as lighting effects or textures. These visuals are particularly important in industries like real estate where end users can tour buildings remotely.
Navigation nodes: Indoor navigation is one of the most common uses for digital twins. Designers can use wayfinding and positioning techniques to position end-users within the model or display directional notifications on their smartphone camera.
Building functionality: Designers can attach interactive nodes to any room or object, granting end-users control of building functions. These might include turning on a light switch, changing the temperature, or activating video conferencing equipment.
Once the digital twin is integrated with a building, designers still need to test and optimize the experience. For example, let's say you're building an indoor navigation system that displays AR-powered directional cues within a smartphone camera. The navigation app will leverage the digital twin to ensure virtual notifications reflect any direction end-users face. Designers may also need to account for room fixtures or objects that obstruct the camera view.
How Vera can help
Creating digital twins is rarely a straightforward process. They are custom-designed to suit each individual facility while meeting the unique needs of occupants. That's why we created Vera — a smart building platform that flexibly accommodates any space. With Vera, designers can intelligently reconstruct 3D visualizations, leverage precise positional tracking, synchronize devices through integrated universal control systems, and much more all without the need for external hardware or sensors.
If you're looking for a partner to help create your digital twin, get in touch with Resonai and set up a free demonstration.
---