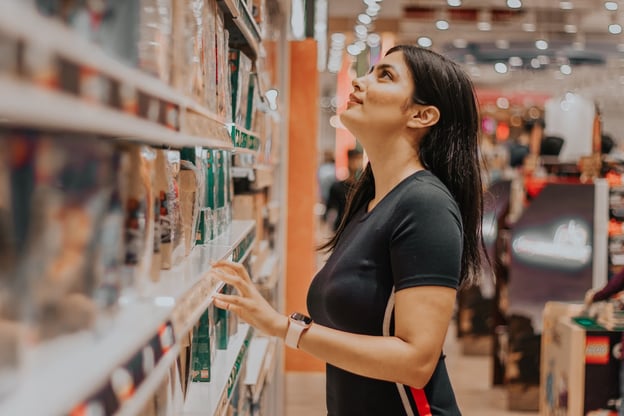 Modern retail environments are constantly changing, but one thing always stays the same: You're better off building long-term customer relationships than continually drawing in a series of one-time shoppers. It isn't hard to see why, since acquiring new customers can be anywhere from 5 to 25 times more expensive than retaining existing ones.
Thankfully, knowing how to build customer relationships in retail isn't so different from making personal connections. With trust, honesty, and transparent communication, an occasional shopper is far more likely to become a lifelong regular.
Jump to a section…
How to build customer relationships in retail
Build trust by embracing transparency
Listen to customers, act on feedback
Communicate with customers, but respect boundaries
How to build customer relationships in retail
Offer a unique experience
In-person shopping is no longer just about buying unique products or finding the best deal — it's about having a satisfying experience. Thanks to the internet and smartphones, any customer can make a purchase and arrange delivery without leaving home. For most retailers, competing with online shopping is an uphill battle unless they offer experiences that are impossible to find on a smartphone.
Take Lululemon, which started launching "experiential" urban storefront outlets in 2019. Unlike the brand's traditional outlets, each site provides a relatively small selection of curated stock. What they do provide in spades are in-person events, guest speakers, and specialty services such as cafes or workout studios. This approach encourages people with varied interests to visit their local Lululemon and join in on the fun. In addition, each interaction creates new opportunities to engage with the Lululemon brand, such as ordering a product for pick-up or registering for a membership plan.
While Lululemon's approach won't work for all businesses, outside-the-box thinking can help everyone bring out the unique value of their locations. For example, retailers can lean into the lifestyle elements of their brand, from bookstores offering reading areas to clothes stores using AR to let customers try on upcoming apparel drops. Read our ebook, "A Guide to the New Digital Infrastructure for Malls & Retail Properties," for even more examples.
Build t
rust by embracing transparency
No relationship can survive without trust, and consumer trust is challenging to earn; most consumers consider themselves "loyal" to no more than three retail brands. A separate study from PwC revealed that business executives think their companies are trustworthy, but only 30% of consumers agree.
Building trust is possible, but retailers must earn it. The most reliable route to customer loyalty retail gains is embracing transparency — from admitting mistakes to being honest and proud of how your products are made. This solution can be difficult because it goes against the common marketing instinct to highlight a company's benefits while downplaying its drawbacks. But it's a lot easier than trying to bounce back after being caught obfuscating information.
One promising approach is to be forthcoming with independent companies who rate and verify transparency. In apparel, the Fashion Transparency Index scores fashion brands and retailers on how they treat employees, manage supply chains, implement sustainable policies, and other factors. Retailers who participate in honest conversations about these issues and how they're addressing them are more likely to improve their standing among potential customers.
Listen to customers, act on feedback
Communication is the cornerstone of any relationship, and mutual understanding can never be reached if that communication only goes one way. Yet, according to one Hubspot study, 42% of companies don't survey their customers or collect feedback.
Nordstrom is an excellent example of a retailer that embraces customer feedback to build customer loyalty retail results. It was among the first brands to use digital tools to analyze consumer data from the Nordstrom Innovation Lab. Its team collected perspectives from all available channels, including social media posts and customer feedback chatbots. This information helped Nordstrom roll out several experiential features, such as storefronts that specialized exclusively in men's and women's fashion and curbside pick-ups.
Most importantly, after identifying a problem, retailers must take some action to resolve it. Otherwise, communicative customers will feel unappreciated and assume they've wasted their time. For long-term issues, releasing an authentic statement on the brand's next steps can help solidify a relationship.
Communicate with
customers, but respect boundaries
Once you've established a connection with a customer, you might feel inclined to contact them frequently with new offers. Perhaps you'd even like to leverage their data to apply targeted personalization techniques. But unless your customer is a super-fan who enjoys your brand, that's not always a great idea. Again, just like for relationships between people, respecting boundaries is always the best policy.
Research in the Journal of Marketing suggests that construal-level theory — which explores the psychological distance between the self and everything else in the world — also applies to consumers and brands. In short, even if someone becomes close with one trusted brand, that doesn't mean they're any more likely to feel particular affection for others. When brands treat occasional customers like regulars, it can backfire and spoil what was otherwise a perfectly fine working relationship.
That's not to say the answer to how to build customer relationships in retail can never include courting new regulars. The key is to segment audiences based on how they respond to your brand. For example, making five separate purchases in a relatively short timeframe is usually a good sign of loyalty. For customers outside of this group, sending the occasional "check-in" email that emphasizes brand awareness is more likely to resonate than going for a hard sell.
Above all else, the best way to keep customers coming back is by providing them with something they can't get anywhere else. Fortunately, that no longer requires investing in expensive store overhauls or exclusive merchandise. Instead, infusing traditional retail locations with the best of AR and metaverse technology can provide customers with new ways to shop, visit, and enjoy their time engaging with your brand.
If you're ready to learn more, get in touch with Resonai today and set up a free demonstration.