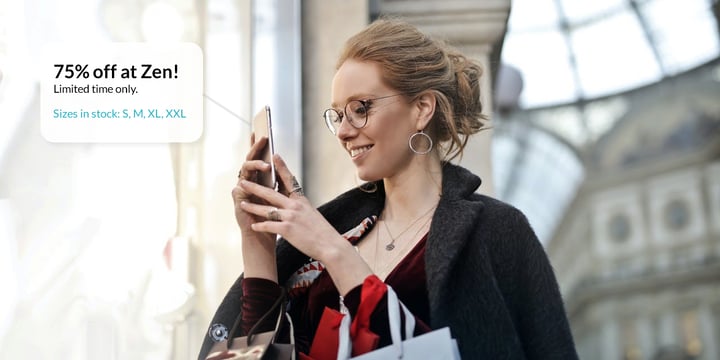 As our real and digital worlds become interconnected, augmented reality (AR) proves itself to be increasingly necessary. While plenty of retailers have experimented with one-off AR experiences, today AR is becoming a central tool for the complete, integrated customer journey. We can already see mainstream brands and retailers leverage AR to showcase products and services that would be impractical — or perhaps even impossible — to display using traditional methods.
There's a real opportunity for retail brands to implement AR and reap the benefits. According to the latest research, 71% of customers would shop more at businesses that offer AR, while 40% are willing to pay more for their selected products. Companies like IKEA, Marriott, and Disney offer proof that retail AR can enhance day-to-day operations and engage any customer base.
Let's take a closer look at real-world examples of what AR technology can accomplish for retail brands.
IKEA Place visualizes furniture placements in the home
Among furniture retailers, IKEA is known for its shopping experience as much as its products. At each location, visitors walk along a showcase path to view furniture items within finished room arrangements. This approach helps customers visualize how furniture will look before making a purchase — but the experience still isn't the same as seeing IKEA products in your home.
To address this challenge, IKEA implemented AR technology using the IKEA Place iOS app. Once the app is installed on a smartphone or tablet, its camera scans your surroundings to establish room dimensions. From there, customers browse an online product database of 2,000 large-scale furniture items. Each IKEA product is rendered as a digital object that users can position within the scanned room — complete with automatic scaling at 98% accuracy.
IKEA's use of AR technology goes beyond in-store services in a few crucial ways. First, customers can see and position digital furniture — such as sofas, armchairs, or tables — to visualize their appearance in each room. Next, the service is fully accessible online, which lets customers browse items from the comfort of their homes. Finally, IKEA Place can save favorite furniture items, share images on social media, and direct users to purchasing options.
Marriott showcases exotic destinations before booking a room
AR isn't just useful for visualizing products — it can also help consumers visualize far-off locations as well. That's how the hotel chain Marriott uses AR, enabling customers to visit the brand's most scenic destinations in advance. Though it might not be considered a traditional retailer, Marriott nevertheless uses AR to essentially merchandise its "products" for users that can't see them in-person.
With its Portal to Paradise app, customers can remotely explore eight Marriott resorts located in Mexico and the Caribbean. Each destination includes six AR scenes created from 3D scans. Once you select the destination and point your phone at a flat surface, a virtual portal appears and "magically" transports you to the resorts' beaches, restaurants, spa and more, allowing you to tour the grounds through your phone almost as if you were there on the premises.
Marriott's goal for Portal to Paradise is to let customers see for themselves what each destination has to offer. Thanks to AR technology, vacationing families won't need to imagine what the on-site pool looks like. Businesses don't have to guess whether facilities can accommodate a conference. Instead, customers can view locations for themselves before making a reservation.
Disney is aggressively pursuing AR tech for its parks and stores
Disney certainly doesn't need AR technology to be a success story. This mega-company already owns the world's most successful theme park and manages a massive entertainment catalog that includes the entire Star Wars and Marvel Comics franchises. Yet one reason Disney became successful is that it's always watching the latest trends. We should take notice when Disney Research Studios dedicates an entire category to augmented and virtual reality tech.
Disney currently has several active and in-development AR projects that operate from its parks or anywhere with smartphone access. Just a few examples include:
Disney Research developed an

AR costuming technique

that overlays new outfits over your clothing. This technique lets users take selfies of themselves dressed as fan-favorite Disney characters. It's akin to traditional clothing retailers allowing customers to see how they look wearing certain outfits.
A

HeroMirror photo booth

designed for Disney allows users to summon and interact with AR representations of famous Disney figures. Visitors could pose with characters like Minnie Mouse, Elastigirl, and Shuri before collecting a photo of the "encounter."
The

Play Disney Parks app

offers games and distractions to keep visitors entertained while waiting in line. On the AR front, visitors can find and activate digital events using real-world landmarks across the park. For example, pointing your phone at Space Mountain triggers aerial rockets while a Tinkerbell animation flies from inside a Peter Pan lantern.
What can AR accomplish for your retail enterprise?
From Disney-themed photography to IKEA furniture placements, AR is a new reality for retailers. In the years ahead, its capabilities will become even more essential — it allows for remote shopping options, on-site training sessions, and can even act as a contactless COVID-19 solution. Brands that implement AR tech today have an opportunity to gain customers, earn revenue, and future-proof their business for whatever comes next.
At Resonai, we designed Vera to help retailers achieve these goals. Vera is an AI solution that transforms physical locations into intelligent digital spaces for use in AR-powered applications. If you're ready to learn more, contact us today for a free demonstration.