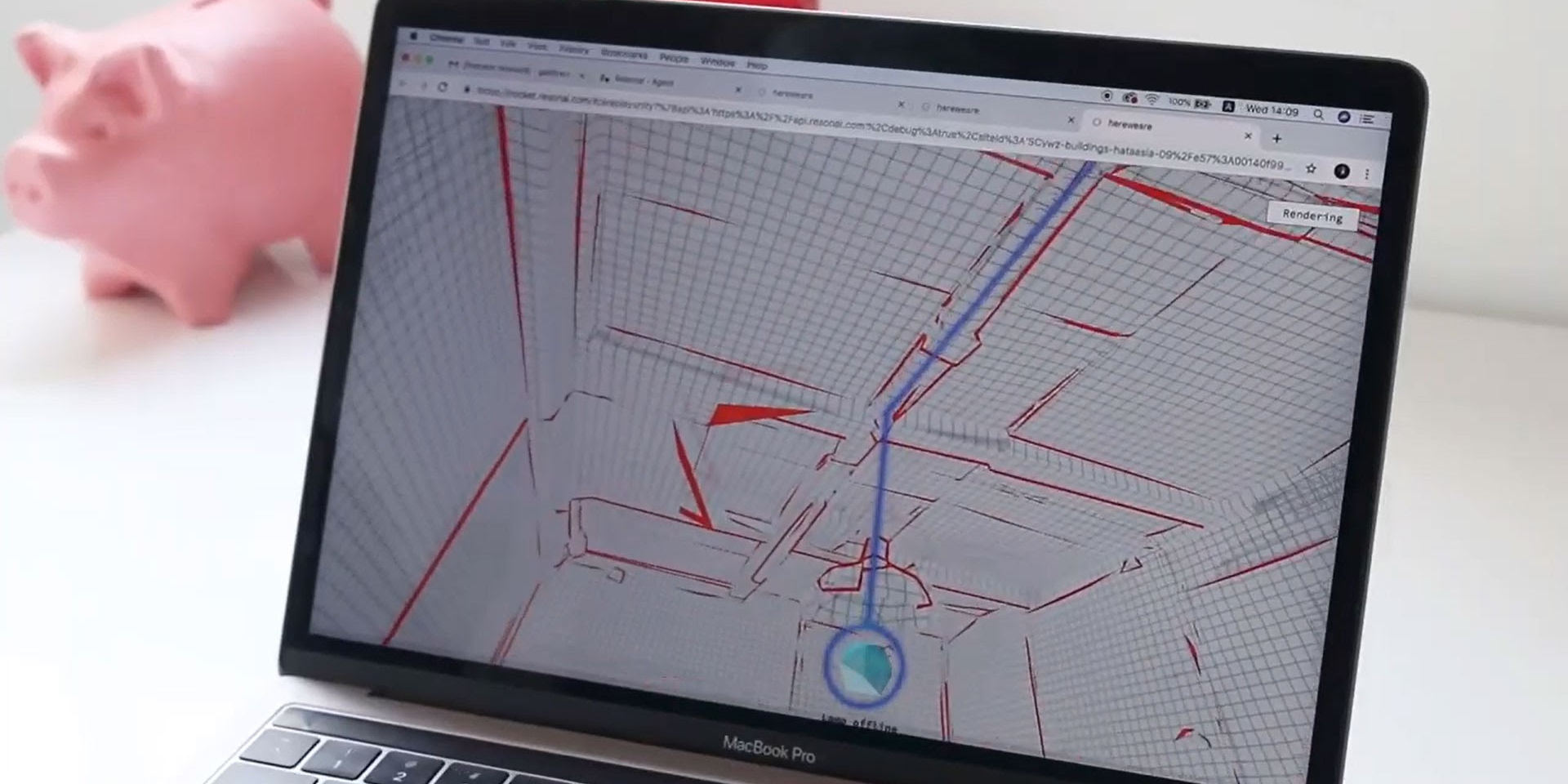 With Google announcing a digital twin tool called "Supply Chain Twin," you may be wondering what a digital twin is and if it's useful beyond the scope of that particular function. Digital twins are hugely advanced and constantly updating digital companions to physical systems—which bring massive benefits to anyone managing a facility. The benefits of a digital twin can also aid in remote training, fast deployment of repairs, and even help manage and improve the way people move through space.
Ready to dig deeper and learn more about digital twins? Check out "Digital Twins: The Ultimate Guide"
Jump to a section
Examples of digital twin solutions
Rapid deployment of repairs to precise locations
Automate building maintenance using predictive learning
Guide visitors around a new location
Analyze locational traffic flow
What is a digital twin?
A digital twin is a virtual replica of a physical object, space, or system. It's capable of updating itself in real time using sensors and machine learning, as well as modeling predictive behavior based on the data it gathers. Compared to a traditional digital model, which can only accurately represent the point of its creation, a digital twin changes to reflect the current reality of its physical partner, offering significantly more beneficial information to users.
Benefits of a digital twin
Digital twin services allow systems managers to monitor spaces remotely, control assets within the real space using IoT integrations, and predict future behaviors and problems before they occur, minimizing downtimes and failures.
A digital twin could be an entire factory, a shopping mall, or even just a single important piece of equipment that needs to be closely monitored. Resonai's Vera platform allows a user to interact with that data, through augmented reality on a smart device or via computer, giving the flexibility to understand and control a system either in the office or in the field.
If you're asking what challenges do digital twins solve, the technology can be leveraged to rapidly improve ticket time for repairs, to help orient a person in a new building, to educate a staff member with new equipment, and even improve foot traffic. From personnel training to device maintenance to in-store advertising, digital twins can solve a number of prominent problems facing all manner of facilities managers.
When weighing the advantages and disadvantages of digital twins, facility managers sometimes believe that AR is too expensive to implement. However, a solution like Vera Maintenance Manager rapidly pays for itself, due to a significant increase in facility uptime, and a reduction in maintenance costs. The Moscow Trade Center used Vera to decrease repair times by 44%, and overall added 180 business hours per year—that's more than four weeks of extra commerce.
Examples of digital twin solutions
Augmented reality training
With a digital twin of a physical system, you can train someone without needing to send them into a potentially busy (or in the case of certain industrial situations, even dangerous) situation. For a retail worker, that would mean a remote orientation with a perfect model of a store's layout, so they could arrive with full knowledge where every product is stored in the store. For facilities management, trainee staff would be able to familiarize themselves with the ins and outs of a building without needing to take existing staff off of other work in order to orient them.
In cases where a particular area of a facility is difficult to access, digital twins allow trainees to practice reaching the environment and learning its location without needing to arrange physical admission.
Digital twins can also be leveraged for familiarization with specific important objects within a facility. A full digital twin of a piece of machinery can be used to train an individual on how to take apart and put back together the item in case it requires repairs. Using augmented reality, the trainee is also able to walk around the object in three dimensional space using a smart device, achieving a level of familiarity that's impossible from a 2D repair manual.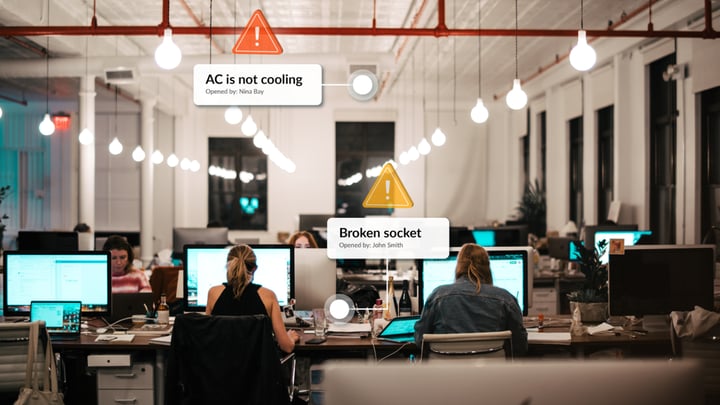 Rapid deployment of repairs to precise locations
In the unfortunate event that an asset needs repair, a digital twin can monitor the state of the facility in real time using system-wide sensors, and alert the facilities manager as soon as something goes wrong. When a repair team is deployed, the augmented reality view from the digital twin will direct them to the exact location of the issue. The sooner the asset is repaired, the sooner it can be back to full functionality, limiting downtime and lowering costs.
Digital twins can also streamline how a user reports facility issues, allowing them to tag assets by using the camera on their smart device, followed by the system automatically recognizing the object and generating a repair ticket.
Automate building maintenance using predictive learning
Rapidly responding to damaged systems may be the key to limiting downtimes, but even more advantageous is the ability to accurately predict when maintenance will be required in advance of failure, so that the breakage never happens. Resonai's Vera Maintenance Manager is able to use powerful machine learning and real-time data from a variety of sensors to stop problems before they start. By modeling usage and using existing information about how an asset behaves, a digital twin can flag a preventative repair in the nick of time.
Guide visitors around a new location
The same tools that guide a repair team through a factory to find a malfunctioning asset allow a shopper to find their way through an unfamiliar mall. Vera's Virtual Concierge can create an augmented reality overlay on a smartphone that will direct someone to their favorite store; through a labyrinthine hospital to their doctor's office; or across an airport. This not only helps people reach their destination faster, but foot traffic flow improves as people aren't causing traffic jams staring at an obtusely labeled map. This AR integration also gives an avenue for personalized and contextual data to be passed on to a pedestrian — as well as a new avenue for advertising.
Analyze locational traffic flow
With real-time data and advanced computer learning, a digital twin can monitor, analyze, and predict foot traffic in a physical space. A store manager could simulate a new layout of products for better customer distribution, or a facilities manager could prevent bottlenecks near entry and exit points. This streamlined efficiency reduces wear (and the associated costs), maximizes equipment lifespan, and can provide people a better, more pleasant environment.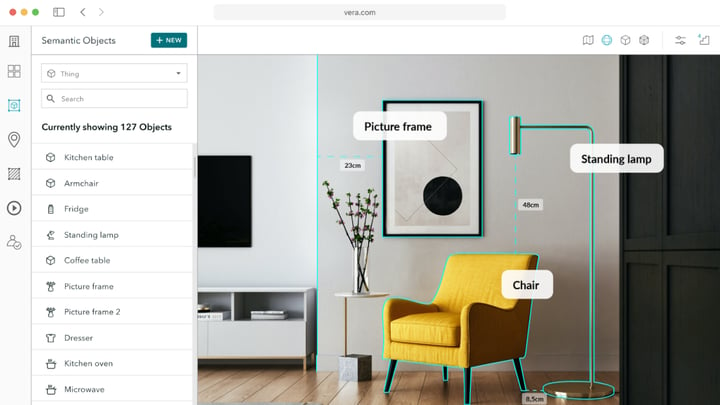 Interior design
When planning a facility, digital twin technology also provides avenues to experiment with layouts and designs without needing to do so in person. A digital twin can simulate how altering the layout of a space will impact its usage — plus give you an idea of the aesthetics of the change. It allows experimentation with assets as large as changing plumbing or electrical wiring, or as small as installing a new light, or if a couch will block a power outlet.
Digital twins are powerful, data-driven tools that can radically alter the way a facility manager controls a building. Everything from office buildings to factory floors to shopping centers could benefit from the power of predictive modeling to reduce costs and increase the satisfaction of the people using the space. Are you ready to learn more? Get in touch with Resonai today and set up a free demonstration.
---