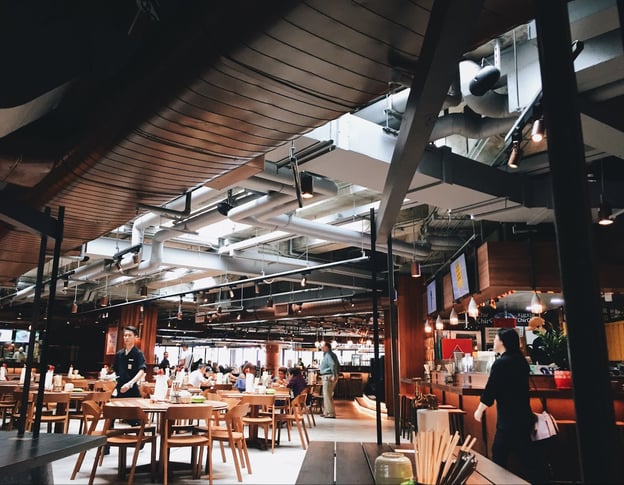 Shopping centers, superstores, and malls have been cultural staples in the US for decades, but the experience of visiting one is changing. Building managers are using technology to improve the customer experience, and in doing so, are helping their businesses prosper. Innovative tools like Indoor location services offer customers a streamlined experience while enhancing a facility's operational backbone — and that pays off on the balance sheet.
Building managers that haven't made the upgrade shouldn't fret about being too late to the party, but now's the time to begin researching the business benefits that tracking tech can bring and how some companies use it to full effect.
Jump to a section…
What are indoor location services?
Businesses using indoor location services
The best indoor location service providers
What are indoor location services
?
Indoor location services serve diverse functions, though they're primarily used to help customers find their way through a shopping center. For example, a shopper could enter a mall, open their phone, then ask for guidance to the nearest Adidas store. They then see an augmented reality (AR) projection of the directions on their phone's screen. In essence, it's like Google Maps for shopping center interiors.
However, there are also types of indoor location tracking for assets. Those services can monitor the location of employees, products, and other items to minimize the risk of loss and theft of goods. Together, the two types of indoor location services can be a powerful tool for improving a mall's KPIs.
Indoor location services are facilitated with various technology, though they typically include a network of sensors installed throughout a building. RFID tags are often attached to assets to help track them more accurately. Implementing the services isn't necessarily difficult, though they must be thought of differently than a mall's other features. If you'd like to know more about the process, Resonai's free white paper "A Guide to the New Digital Infrastructure for Malls & Retail Properties" covers how building managers can implement and leverage indoor location services via a digital twin.
Businesses using
indoor location services
Indoor location services may still fall under the umbrella of "advanced" technology, but they're already in place in some of the foremost shopping centers and malls around the world. Here are some of the businesses that use indoor location tracking technology to elevate the customer experience and improve performance.
The Dubai Mall
The Dubai Mall is home to more than 80 million visitors annually and clocks in at more than 12.1 million square feet. It's one of the most well-trafficked buildings on the planet. It's a large area for shoppers to navigate, which makes the addition of indoor location services immensely valuable for consumers. The Dubai Mall's integrated location tracking system gives customers wayfinding capabilities, making it far easier for them to find and enjoy the mall's hotels, services, and stores.
Mall of America
The Mall of America is a goliath, with a gross area of 5.6 million square feet and 40 million visitors annually. It's home to more than 400 events yearly, including fashion shows and concerts. As far as shopping centers in the United States go, none can top the size and spectacle of the Mall of America.
But Mall of America hasn't just emphasized unique experiences and a massive number of stores, it's also emphasized the technological aspect of modern shopping. The mall features digital kiosks scattered throughout that act like a concierge service, informing visitors about the latest deals and promotions and providing directions between stores. Today, personalized shopping experiences are more valuable than ever, so adding a digital concierge-style touch can go a long way in retaining customers.
Moscow Trade Center
The Moscow Trade Center trade center sprawls over a massive area of more than 200,000 square meters and is home to more than 6,000 stores offering shoes, textiles, apparel, and more for wholesale buyers to peruse. It's a complex facility, and managing the daily operations became more difficult as it grew. The Moscow Trade Center turned to Resonai's Vera platform to manage the flood of service requests it received every month.
The Vera platform equipped the Moscow Trade Center with a bevy of automation and maintenance management features while also enabling new, interactive experiences for its tenants and visitors. As a result, the facility saw a 44% decrease in time to repairs and an additional 180 active business hours per year.
The best indoor location service
providers
Implementing an indoor location service isn't necessarily difficult, but creating one from scratch is. Instead, businesses should opt to partner with a location service provider that suits their needs. Here are some of the best examples:
Inpixon
Hospitals report an annual attrition rate of up to 25% for lost and stolen wheelchairs, an issue that Inpixon hopes to solve. Inpixon provides asset tracking services to healthcare facilities — and other businesses — that make it easy to determine the location of property, employees, and patients. The addition of asset tracking (and navigation features) can improve the quality of patient care and outcomes thanks to actionable insights into elements like patient flow, throughput, and wait times.
Sewio RTLS
Sewio RTLS is an asset tracking service that's built to make warehouse inventory management more efficient. It allows facility managers to track employees, products, and machinery throughout a facility, providing the hardware and software necessary to get the services up and running. The data from the Sewio RTLS can help gain insight into how a facility is running, generating heatmaps and overall equipment efficiency diagrams so project planners and managers can optimize their workflow.
Cisco Spaces
Cisco Spaces is a business-oriented solution that creates a seamless and secure network for employees to connect to, then pools location information into interactive 3D maps. Managers can then use that data to view occupancy levels and indoor environmental conditions of a facility, helping them improve the overall employee experience.
The platform also has a bevy of convenient features that stem from its interior location service functionality. For instance, employees can use the location to find available meeting rooms and collaborative spaces within an office. It can even send an alert if the meeting has reached capacity, then book a secondary room for the overflow.
Resonai
Resonai's Vera platform innovates on the traditional retail experience rather than completely reinventing the wheel. It's built to engage visitors and improve KPIs, introducing features such as wayfinding and a digital concierge service to give brick-and-mortar shopping personalized flair.
To do so, Resonai creates a digital twin of a facility. Building owners can then create experiences like digital art exhibits for customers to interact with, as well as send them personalized offers for stores in the building. Are you ready to learn more? Get in touch with Resonai today and set up a free demonstration.