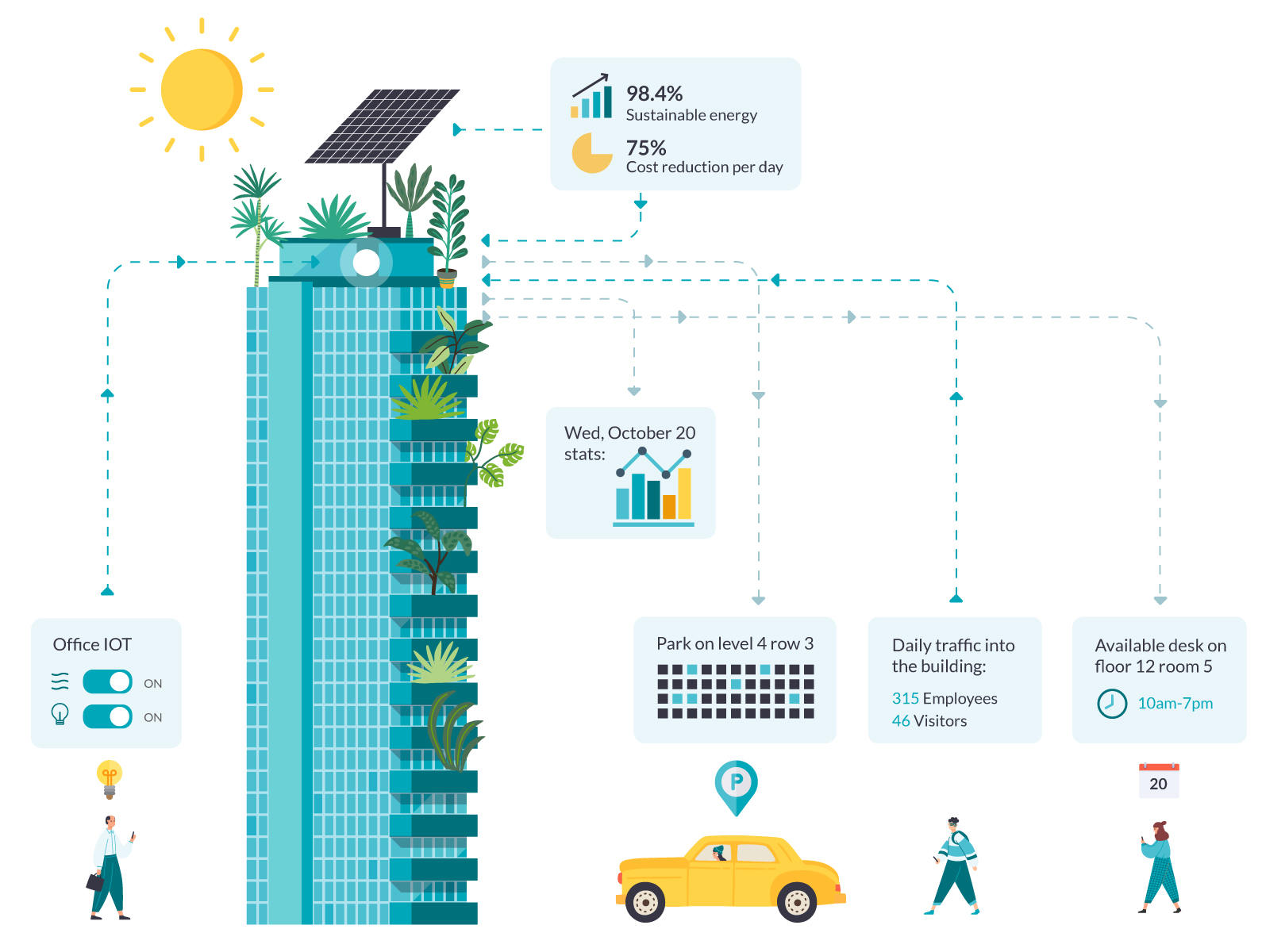 While we may not have the flying cars and time machines that sci-fi movies promised us, futuristic smart buildings have definitely arrived. Utilizing a mix of sensors, artificial intelligence, and the internet of things, the smart buildings of today make traditional buildings seem like little more than piles of concrete and steel. Smart tech improves occupants' day-to-day lives while cutting down on maintenance costs, improving energy efficiency, and creating eco-friendly solutions for their cities.
We've scoped out some of the coolest, most innovative, and most impressive intelligent buildings from around the world. These smart buildings make the most of today's technologies to not only improve building owners' operational efficiencies but deliver groundbreaking visitor experiences as well. If you feel like you missed the boat on intelligent buildings, don't worry — it's never too late with Resonai.
Want to learn more about how augmented reality is changing our relationships with the built world? Check out our report, The State of Augmented Reality in Facilities Management for insights from 100+ professionals on how they view the role of AR in their industry.
The Edge - Amsterdam, The Netherlands
Described as "the smartest building in the world," The Edge has the kind of life-improving smart systems that most office buildings could only hope to offer. Employees who work there have access to a smartphone app that tracks their schedule and acts as a pass to all the building's facilities. But that's just the beginning. The app also helps workers find a parking space and a workspace since there are no assigned desks or offices at The Edge. This "hot desking" concept fosters new encounters and helps colleagues build relationships, but it also ensures that the building's square footage is used as efficiently as possible.
Imagine it: after parking your car, you get to your desk for the day, and the space automatically adjusts the lighting and temperature to match your preferences. You walk to meetings under a "digital ceiling" of LED panels with 28,000 sensors for motion, light, temperature, humidity, and more. According to Chief Information Officer Erik Ubels, the building expects to earn back its investment in this digital ceiling in just 8.3 years, with central dashboards tracking it all and adjusting accordingly. The Edge is not only cool and futuristic, but it's also green, having earned a 98.4% sustainability rating from British agency BREEAM, the highest percentage ever awarded.
DPR Construction - San Francisco, California, United States
In a 2014 press release about DPR Construction's forthcoming San Francisco office, Regional Manager Mike Humphrey said that the company was renovating the building to "incorporate cost-saving and environmentally-friendly features" that would "achieve net-zero energy certification and serve as a 'living lab' to test the newest and most intelligent energy-efficient products on the market." Today, not only has the building achieved that net-zero energy designation, but it operates at under $200 per square foot.
So how did DPR Construction pull off this architectural marvel? Along with over 300 photovoltaic panels to produce its renewable energy system, a rooftop solar thermal water heating system, and a whole host of other eco-friendly features, DPR Construction implemented Honeywell's building management system with Command Wall Touch technology. The company also deployed LEED Dynamic Plaque building performance monitoring platform to track the building's resource usage and other metrics. And did we mention the three living walls and living wine bar? That sure beats a stuffy, poorly lit office for meeting space!
Burj Khalifa - Dubai, United Arab Emirates
As the world's tallest building, the Burj Khalifa in Dubai is an impressive structure. When you consider the building's partnership with Honeywell to implement advanced internet of things technology throughout, it's no wonder that this structure is so popular that tourists pay to take a tour. Bashar Mohammad Kassab, Director of Facilities Management, has called the iconic building "the smartest and most sustainable building in the UAE and across the Middle East," and for good reason.
The Burj Khalifa piloted Honeywell's Outcome-Based Services solution, which tracks the HVAC system's mechanical components. Using real-time field data, OBS identifies anomalies and runs algorithms for both preventive and predictive maintenance, both of which save money by reducing downtime and repair expenses. With OBS, the Burj Khalifa saw a 40% reduction in maintenance hours, while boasting 99.95% availability. To tie it all together, Kassab's team uses Honeywell's Enterprise Buildings Integrator (EBI) system to increase smart devices' connectivity and get a unified view of building systems.
Tottenham Hotspur Stadium - London, England, United Kingdom
It's not just office spaces joining the smart building revolution. Tottenham Hotspur Stadium, which hosts both British football (note to Americans: soccer) and the occasional NFL game, has been called "Europe's most technologically advanced stadium," and for good reason. An integrated network serves as the backbone for turnstiles, CCTV, point-of-sale systems, and even back-office computers. There are 1,800 screens with zone-specific content, including in teams' locker rooms, so viewers might see anything from safety messages to tactical briefings. Monitors assess activity spikes in concession stands, ensuring that lines don't get out of control. Fans at the stadium can connect to the official app from one of 1,641 Wi-Fi access points.
These technological advancements are designed to create an unforgettable experience for sports fans, encouraging them to show up early, stay late, and spend money. As IT director Sanjeev Katwa explained, "Technology has enabled those new revenue opportunities… We're opening up three hours before kick-off to aid revenue but also to improve the flow of people around the building." That certainly beats struggling against tens of thousands of other people to get out of the stadium once the game ends.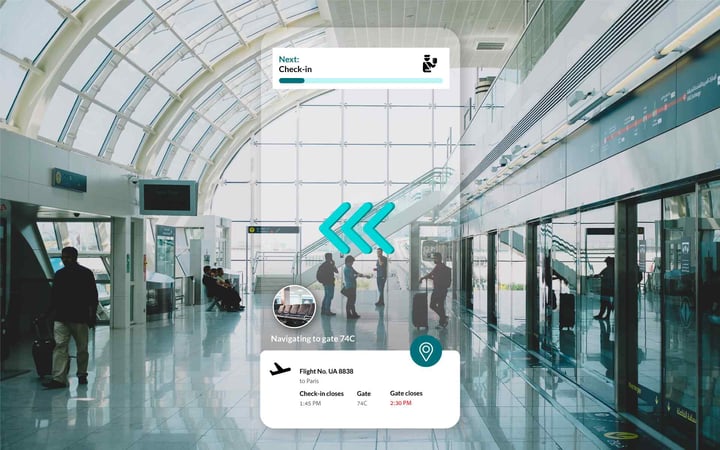 Resonai turns ordinary buildings into intelligent digital spaces
The buildings on this list are obviously impressive, but keep in mind that you don't need to go big to take advantage of modern technology. With Resonai, you can gradually layer solutions with the confidence that every component is fully integrated. Down the line, integration pays dividends: It ensures a single point of control, eliminates data silos, and powers analytics.
By committing to an integrated smart building vendor, you can also access advanced automations and custom applications. It's all possible with Vera, our comprehensive computer vision smart building platform.
Here are a few ways the Vera platform helps with facilities management:
Maintenance made simple: By pointing a mobile device at an item in need of repair, the problem is automatically logged, maintenance data is retrieved, and a technician receives AR directions immediately.
Next-level training: AR tutorials and digital manuals provide a more engaging training experience for new employees.
Digital concierge: AI technology handles requests from employees, tenants, and visitors.
A seamless work environment: It only takes one app to control all smart devices and sensors in the building. That includes monitors, HVAC systems, video conference screens, lights, and more.
Ready to meet Vera? Watch the video above for an overview of the Vera admin console. And when you're ready to start adding intelligent, eco-friendly, and money-saving smart solutions to your buildings, our experts are standing by.
Now that you've seen intelligent buildings in action, learn more about what they can do for you by reading our comprehensive guide, "What Are Intelligent Buildings? A Beginner's Guide to Digital Facilities"